Loyal fans of Beard Papa's were deflated upon learning the Japanese cream puff company had abruptly closed its doors Monday afternoon as the latest casualty in the Block37 mall.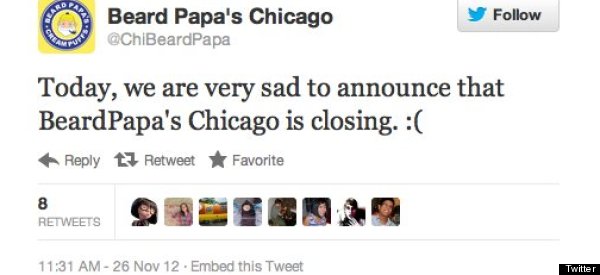 Beard Papa's didn't give a reason for the closure--which was "effective immediately"--and said via Facebook they were one of the last original stores left since the mall opened in 2009.
In a goodbye message on their Facebook page, the Beard Papa's team wished patrons the best for the holidays and thanked them for three years in the Block37 location. Downthread, things got a little more interesting as disappointed customers voiced the seemingly obvious question: with another store closing, how is Block37 even staying in business?
Beard Papa's is the fourth store to close in Block37 since June. The Tribune reported Alternatives Shoes, a European-style shoe store, shuttered in August, while food court staple Auntie Anne's Pretzels and Andy's Custard went under in June, both citing low foot traffic.
Alternatives Shoes owner Sandro Ciurcina told the Tribune he expected Block37 would pull in more businesses after signing a two-year lease with the mall but nothing happened. "In the short term, I don't know if the mall will pick up."
Andy's Custard was a particularly unusual closure: as Crain's Chicago noted, it was the first time in the company's 26-year history it's ever had to close a location.
As of July, less than a third of the State Street mall has been leased, reported Crains.
A foreclosure order was issued for the mall in 2010, with Bank of America buying it at a relative bargain of $100 million the following spring. Real estate investors CIM Group picked up the property in September, with Chicago Real Estate Daily reporting on potential plans to develop a hotel and apartments on top of Block37.
Additionally, Crains says CIM Group has plans to overhaul the tenant retail mix, signage and "branding strategy" in the flagging shopping mall.

BEFORE YOU GO