Justin Bieber gave Carly Rae Jepsen a major plug when the pop superstar tweeted about her now-ubiquitous hit "Call Me Maybe" last winter and subsequently made a viral video for the song along with Selena Gomez, Ashley Tisdale and other recognizable pals.
So, it's only natural that the fellow Canadian's name tends to come up often when Jepsen does interviews. But in the January issue of Cosmopolitan, she explains that she has no problem with that.
"I never get tired of being asked about him. I'm forever indebted to him for the lovely boost that he's given me," Jepsen tells the magazine.
And perhaps because of her association with the 18-year-old tween favorite -- or more likely, because of her fresh-faced appearance and bubbly demeanor -- Jepsen is often assumed to be much younger than she actually is. But that's OK too.
"If people think I look younger, then that's great; I'm stoked," Jepsen tells Cosmo. "But I turned 27 in November, and when I look in the mirror, I see all of the years attached to that face, and I'm content with me."
She also reveals the unlikely matchmaker who's responsible for her relationship with boyfriend Matthew Koma. "Redfoo [of LMFAO] is our Cupid – a cupid in zebra-print pajamas! Foo's awesome," she gushes. "He ended up introducing me and Matthew."
However, it should be noted that Koma was not the inspiration for "Call Me Maybe." That would be her ex-beau, Jordi Ashworth.
In the October issue of Glamour, Jepsen told the magazine how Ashworth came into her life. "I was nominated for songwriter of the year in Canada, at the Juno Awards, and I went with my father so he could help me walk down the red carpet in my four-and-a-half-inch heels," she said. "At the last second he got stage fright. So my producer offered up his friend Jordi Ashworth to be my arm support while I walked in these crazy shoes."
For more on Carly Rae Jepsen, visit Cosmopolitan.com.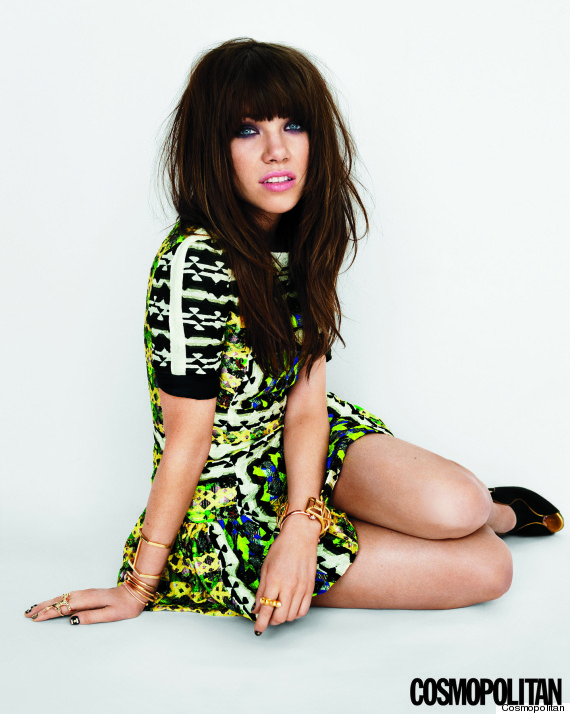 BEFORE YOU GO
PHOTO GALLERY
Carly Rae Jepsen's Summer Performances