Food Informants is a week-in-the-life series profiling fascinating people in the food world. We hope it will give you a first-hand look at the many different corners of the food industry. Know someone who would make a great Food Informant? Tell us why.
Matthew "Matty" DuTrumble has been the Executive Chef for Zynga -- the company that creates online games such as FarmVille and ChefVille -- since joining the team in 2009. At Zynga, Matthew leads a team focused on menu development, local product sourcing and cooking multiple meals and snacks. He joined Zynga after serving as a Chef Instructor at Le Cordon Bleu CCA in San Francisco. At Le Cordon Bleu CCA, Matthew focused on a broad range of disciplines, including Kitchen Production, Butchery, Banquets & Catering and Contemporary Cuisine. Matthew has appeared on The Food Network's "Private Chefs of Beverly Hills," and also ran his own catering company Matty's Fresh Meals Catering. Additionally, Matthew has served as a Chef at the Harker School, and spent time in the kitchens of The West Deck in Newport, Rhode Island, and Caffe Itri in Cranston, Rhode Island. Matthew studied at Johnson & Wales University in Providence, Rhode Island, where he obtained his culinary and business degrees.

Read more to learn about how a digital company eats...and learn about the nerdy menu names.

Tuesday, November 13
9:00am: That extra day off (November 12 was Veterans Day) has got me all pumped up and ready to get back to the kitchen. Wes, our super talented Front of the House manager, jokes with me about letting him finish his coffee before I am allowed to talk to him. For the record, my bike ride to work is my coffee. I actually drink calm tea to start my day and things get really crazy when I drink a little decaffeinated green tea mixed with a peppermint tea in my "Late Night with Jimmy Fallon" mug. Try it out! Jimmy, if you are reading this, I very much enjoy the fine mug you have produced. I would also love to do a cooking demo on your show one day ;)

10:00am: Checking out the menu in the kitchen. It's Taco Tuesday on the main buffet and in VeggieVille we are putting out some fine Indian cuisine, always popular. In the Zynga kitchens we're always trying to bring everyone together to share a meal and a moment together. We offer a main menu that includes animal proteins and is designed to be a bit more Western, American and Latin in focus. VeggieVille is 90 percent vegan and based on cuisines that have been doing vegetarian foods naturally for thousands of years. You want real vegetarian, you got it. You want real comfort food, you got it. You want Californian cuisine, you got it. We're committed to using the best local and organic products in dishes that Zynga employees can identify with.

10:30am: I'm excited because I just finished talking about bringing walnuts in from our chef Meghan's family's farm up north. We get them every harvest and they are delicious!

11:00am: Candy apple tasting time with Nicole, our lovely head Baking and Pastry Chef. Had this idea to do mini candy apples using these local organic lady apples for a special treat. They came out amazing! We are going to serve them at an event tonight hosted by Tipping Point, an organization Zynga has partnered with to reduce poverty and improve education in the Bay Area.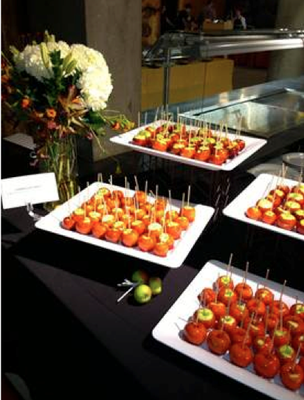 12:00pm: Lunch with my Chef de Cuisine Sarah to prepare our agenda for the day/week. We go over how service is going, what improvements we can make, I unload my ideas on her, she tells me if I am crazy, and then we come up with a plan to make it all happen. Today I am telling her how I want to start doing our own fresh juices at brunch.

1:00pm: Visiting our farmers' market and checking out the new local and seasonal whole fruits that we are offering the company this week. We have Comice pears, Asian pears, Golden Delicious apples, Rome Beauty apples, Lady apples (this is the one we used for the candy apples) and Seckel pears.

2:00pm: Two meetings going on at once! The first one is our Happy Hour planning, which we throw every Friday from 5:00-7:00pm. We're currently planning for our Movember-themed one. It's going to be hilarious. Mustache painting booth for the ladies, Mustache Competition for the men and mustache chocolate cookie making in the kitchen! Is it weird to eat a mustache? We will find out.
The second meeting is the start of the "River," which is what we call all of our meetings that pertain to menu development and execution of all our meals. The start of the "River" is the "Storm," the brainstorming and initial conceptualization. There is a lot to balance here. What costumes will front of the house wear when we do a zombie brunch? Should we get a DJ or break dancers at Burgers & Beats (our 1980's throwback)? Who is going to be Bob Barker at the Spice is Right lunch? Should we make another castle out of recycled boxes for our King Arthur night?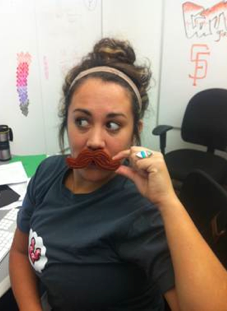 Nicole our Head Baker

3:00pm: Going over the internship program that Zynga will soon be offering San Francisco culinary students. The idea is that we set up a mystery basket competition for those interested in joining us and pick our winners to join us for a paid internship at Zynga. The internship will consist of one week in purchasing and receiving, two weeks in butchery, two weeks in the bakery, one week on Pizza, two weeks for A.M. Banquet, one week in front of the house, two weeks for P.M. Banquet, two weeks at our pop up restaurant and, of course, one day of brewing beer.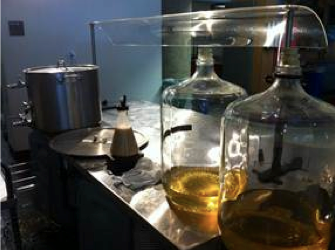 4:30pm:
Talking with Kuo (General Manager) about team performance objectives and development.
5:00pm:
Theme party meeting. Planning now for the whole month of December. Check out a few of the buffet themes we have coming up:
"When the Moon Hits Your Eye" Italian Monday Lunch - 12.10
Southern Comfort Wednesday Lunch - 12.12
Wednesday Elf the Movie Dinner - 12.12
Build your own spaghetti bar featuring maple syrup and Pop Tarts.
"The Spice is Right" Monday Lunch - 12.17
BBQ with your choice of In-house made BBQ Sauce Style
Casual Brie en Croute Friday Happy Hour - 12.21
This is how we got into the holiday mood for some inspiration on some of the winter wonderland menus: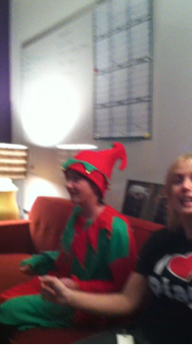 6:00pm:
Just checked in with the crew to see how things are going for tonight's Tipping Point event. Here's a sample of the menu:
Spinach, Persimmon, Pomegranate, Goat Cheese & Walnut with roasted shallot vinaigrette
Green Bean Casserole mushroom sauce & fried onion
Roasted Turkey with Gravy
Prime Rib au jus & horseradish sauce
Ciabatta Stuffing
Pumpkin Pies with Whipped Cream
2010 Henri Bourgeois Petite Sauvignon Blanc
7:00pm:
Off to go see the Lion King at the San Francisco Orpheum. Apparently they pour tequila shots at the theater.
10:00pm:
What an inspiring show! I loved it! Amazing cast! And that's not the tequila talking.
Wednesday, November 14

12:00am: We were hungry after the show so we went to Sauce in Hayes Valley. It is a great late night spot when you are looking for a really enjoyable meal. The menu is pleasantly quirky and I'm loving how whimsical the chef is. Also, liking their take on the wedge salad.

10:00am: Spice Talk 2012. I want to see if we can increase what we grind in house and eliminate the use of dried herbs.

12:00pm: Reorganizing the storage room to see how we will better store and organize our spices.

1:00pm: Firing up the deep dish pizzas. We have tested it out 12 times and we now have a product that deserves our name. We will now be training our pizza crew how to make it and it will be on the menu next week.

2:00pm: It's lunch time. I'm rapping with Sarah while multitasking.

3:00pm: Walk into my office and was surprised by this little guy. I couldn't see him as I walk to my desk. Quite a pleasant surprise to and find a cat on my keyboard. We can bring our pets to work at Zynga but don't worry, they don't go into the kitchen.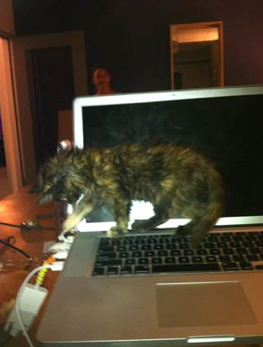 3:15pm: Working with the trainers from the wellness group at our in-house gym on an upcoming healthy eating campaign. Very excited about this. We are going to help people make the choices they want in the New Year by combining exercise with nutritional education for better health and fitness!

4:00pm: Meeting with my supervisor Jim.

6:00pm: Tasting some Swedish meatball madness for tonight's dinner. The menu:
Avatarish Smorgasbord Dinner: 11.14.12
Na'vi Mixed Greens Salad White Corn, Green Beans, Peas & Tomatoes Omaticaya lemon dill vinaigrette
James Camerons' Cauliflower & Broccoli Florets
Eytukan Egg Noodles
Colonel Miles Quatritch's Catch of The Day caper, red onion & fennel salad
Mo'at Meatballs
Pandoran Biosphere Bulle Swedish cardamom bread with vanilla bean glaze
Giovanni Rabisi Beluga Beanballs caper, red onion & fennel salad
Pandoran Biosphere Bulle Swedish cardamom bread with vanilla bean glaze
Brown Rice Bar
Thursday, November 15
10:00am: The pizza oven is broken. Nobody freak out, we're just not going to have pizza for one day. Note to restaurant designers: if it moves, it can always break so get equipment that has the fewest number of buttons and moving parts. Keep it simple.

10:30am: Didn't like the cleanup job today from the night porters. Gotta go talk to the B-man about that.

11:00am: Yum, just tried the new pumpkin latte at Blue Bottle...those guys kill it. Love that we're able to bring a product like Blue Bottle into Zynga. We have single origin fair trade coffee and it is an epicurean's dream. While I don't drink much caffeine, I love the flavors of these perfectly roasted and brewed beans.

12:00pm: I'm meeting with Alanna, an amazing food photographer, from the Bold Italic to discuss culinary philosophy. Check out her work.

3:00pm: Checking out the farmers' market and then off to the gym.

5:00pm: Checking out dinner production - it's smelling good and making me a little hungry. I do more than a light tasting. Here's the menu:
Nerdcore Pasta Bar Dinner - 11.15.12
NFL (Nerdcore For Life) Salad Romaine, Tomato, Onion, Carrot & Candied Walnuts red wine vinaigrette
Carl Sagan 'Star Stuff' Spaghetti
MC Frontalot Fusilli
Optimus Rhyme Ragou (tomato and beef versions)
Weird Al's Alfredo Sauce
Pop and Lock Your Protractor Pesto
Fresh Fraction Fixins: Chicken, Bacon, Pinenuts, Basil, Tomatoes, Artichoke Hearts, Olives, Peas, Mozzarella, & Parmesan
Commodore64 Quinoa Pasta
Brown Rice Bar
6:00pm:
Off to see comedian Louis C.K at the Davies Symphony Hall. Love that he can take some ... bizarre ... thoughts and make you pee-your-pants laughing about them.
10:30pm:
At
West of Pecos
in the Mission for a friend's surprise birthday party. I thought I heard that you get your tacos for free if you can eat the whole thing in one bite.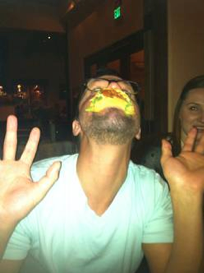 Friday, November 16
10:00am: Biking into the office for a nice brunch today. The menu:
Trim Down Before Turkey Day Breakfast & Lite Lunch: 11.16.12
Mornings
• Odwalla Juice
• Toasting Station with Breakfast Breads
• Steel Cut Oatmeal
• Scramble with Friends
• Bacon
• Chicken Breakfast Sausage
• Roasted Maple Sweet Potatoes
• Tofu Scramble

Afternoons
• Catch of the Day
• Skirt Steak with Gremolata
• Tuscan Kale Salad
• Red Lentil Soup
• Roasted Cauliflower

I love Fridays. Today will be pretty chill.

1:00pm: Had our weekly meeting with the chefs to discuss technique. Checked out Daniel's (sandwich chef) art project that he is working on in our kitchen hallway (a long piece of spaghetti that represents several of our chefs).
3:00pm: Meeting with Erin from Zynga.org. We brainstorm some ideas for employees to bid on at a silent auction at our next quarterly event. All proceeds will go to local charities. We're thinking either a private cooking lesson with me, a private beer brewing tutorial with our brew master Eric or a private "Wine-Down Wednesday" complete with local varietals and 14 of your closest friends

4:00pm: Gave my co-worker from the California Culinary Academy a tour of the Zynga kitchen.

5:00pm: Did a beer tasting with Eric (head brewer). We have our house red ale, an IPA and a pale ale ready to go for next week's happy hour. We have been brewing these consistently and I am being completely honest when I say it is the best beer I have ever had. Next we want to perfect a sour beer. If you haven't exposed yourself to those yet check them out. It's a real process to create but we accept the challenge.
6:00pm: A couple people started to join us during the tasting.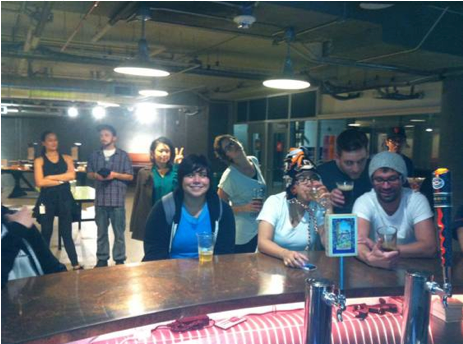 6:15pm: Then it turns into a makeshift game of beer pong with the culinary crew. It's time to start the company happy hour!

Saturday, November 17

10:00am: What was that? We just witnessed a meltdown last night. Katt Williams lost his mind and it was completely entertaining. I forget jokes but I will never forget that night.

1:00pm: Outdoor brunch at Boogaloos with Stephanie. Love this place.

9:00pm: Bar hopped the Mission with some buddies but it got pretty rainy out so went home. Luckily Saturday Night Live was available to entertain me with a funny skit about the Katt Williams incident.
See more Food Informants below:
PHOTO GALLERY
Food Informants