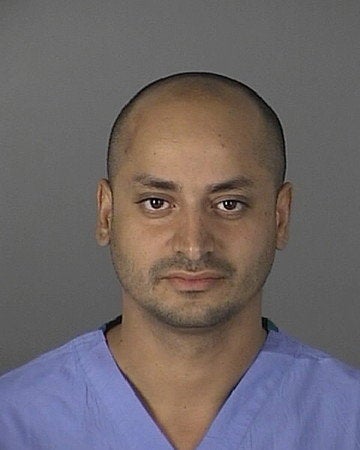 Nude is no way to go through the legal system, son.
Police say that Abraham Andres Luna, 30, sprinted naked around a golf course and crashed into a patrol car as he eluded authorities on a bizarre chase, WTSP reports.
Authorities in Tarpon Springs were alerted to a suspected streaker prancing around wearing only construction boots at the Tarpon Springs Golf Course Monday evening. Police responded, but the naked man slipped by.
Later that night, deputies gave chase to a white van driven by a still-naked Luna, but called off the pursuit when the vehicle crossed county lines.
That's when Luna reportedly bolted from the scene, heading north in the southbound lanes of U.S. 19, according to MyFoxTampaBay. He allegedly sideswiped a police cruiser in his attempt to flee. Police say that Luna then jumped out of the van -- yes, naked -- and made a run for it by foot.
Police arrested Luna and presumably forced him to put some clothes on.
Luna faces a slew of charges, including attempted auto burglary, aggravated assault, battery, aggravated battery on a law enforcement officer, reckless driving, and resisting without violence.
BEFORE YOU GO
PHOTO GALLERY
Things You Can't Do Naked