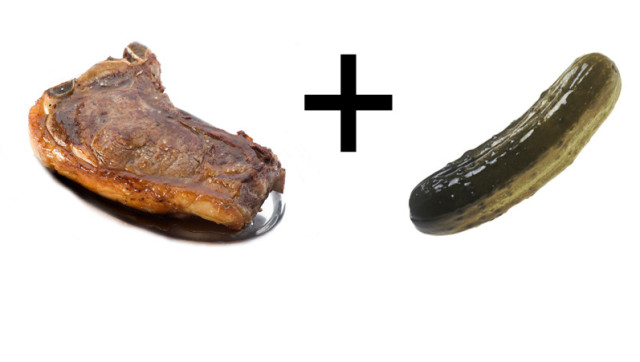 Discovering new food pairings can be tricky -- so challenging that some resort to scientific methods for this task, like the site Food Pairing. While this site has come up with great pairings such as parmesan and dark chocolate, their good results aren't guaranteed -- and these people have science on their side.
So when untrained individuals come up with new food pairings, we tend to be a little skeptical. Especially when it involves steak, cream cheese, pickles, mustard and the optional ketchup. This recipe, which was originally published on Better Homes and Garden, plays off of an old-school snack comprised of cold cuts, cream cheese and dill pickles (if you don't know about these you really should). But, there are some key differences.
For one, the cream cheese is heated -- that just sounds like a bad idea. Two, the pickle is heated -- we're not sure about this. And three, they recommend serving it with ketchup -- which sounds like it's going too far. BUT, some of our favorite foods are involved in this recipe, so we are curious.
While we haven't yet mustered up the nerve to try it, we want to know, would you make this recipe? Tell us in the poll below and leave a comment!
Want to read more from HuffPost Taste? Follow us on Twitter, Facebook, Pinterest and Tumblr.
Check out other pickled vegetables you can try this recipe with.
PHOTO GALLERY
Fall Pickles
BEFORE YOU GO