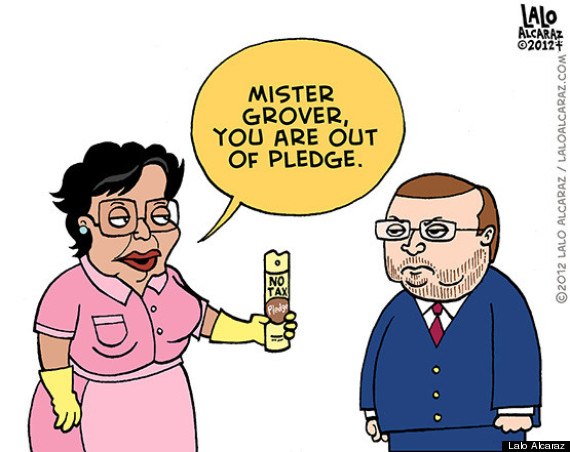 As Republicans withdraw support for Grover Norquist's tax pledge, the lobbyist is making sure senators understand he intends to hold them accountable for their actions.
"You're not having that argument with me," Norquist said on CNN. "You made a commitment to your voters."
But senators who once pledged not to raise taxes under the pledge are now arguing the current fiscal crisis calls for action. So has Grover's pledge run out? Check out Lalo Alcaraz's take on the debate above.
Scroll down to see more examples of Lalo Alcaraz's work.
About the artist:

Lalo Alcaraz is perhaps the most prolific Chicano artist in the nation, according to his own bio. Lalo has been busy for over two decades chronicling the political ascendancy of Latinos in America and vigorously pushing the boundaries of Chicano art in the Post Chicano Art Era.

An award-winning journalist and illustrator, Lalo is also an author, faculty member at Otis College of Art & Design in Los Angeles, and radio host. He is also the creator of the first nationally-syndicated, politically-themed Latino daily comic strip, "La Cucaracha."

Lalo's most recent project is a re-boot of the famed Pocho.com, his pioneering humor, satire and cerveza webzine/blog/news site.
PHOTO GALLERY
The Political Satire Comedy Of Lalo Alcaraz
BEFORE YOU GO