You don't need to book a $700 plane ticket to Peru taste some of the world's best ceviche. Starting at $75, LA's very own Chef Ricardo Zarate of Mo-Chica and Picca is previewing the menu of his upcoming ceviche-only concept, Paiche, on two Sunday evenings in December.
Zarate is inviting friends (and fellow chefs) Josiah Citrin of Melisse, Bryant Ng of Spice Table and Kris Yenbamroong of Night + Market to strut their stuff Dec. 9 and 16. In addition to the chefs' unique takes on traditional ceviche, these dinners will also feature unusual dishes like hot ceviche and duck ceviche. Craft beer pairings will also be available, starting at $12.
Ten percent of all proceeds will go toward the American Red Cross for Hurricane Sandy victims. Below are the details for both nights, and tickets are available at Eventbrite. Joshua Lurie of Food GPS is co-hosting the event.
WHO: Josiah Citrin of Melisse
WHAT: Uni Night will feature four ceviches and one dessert. Beer pairings from New Belgium Brewing.
WHEN: Sunday, Dec. 9, seatings at 5:30, 6, 6:30, 7:30, 8, and 8:30 p.m.
WHERE: Mo-chica, 514 W. 7th St. Los Angeles, CA 90014
COST: $85 per person, $12 beer flight
WHO: Bryant Ng of The Spice Table and Kris Yenbamroong of Night + Market
WHAT: Six ceviches and one dessert. Beer pairings from Firestone Walker Brewing Co.
WHEN: Sunday, Dec. 16, seatings at 5:30, 6, 6:30, 8, 8:30, and 9 p.m.
WHERE: Mo-chica, 514 W. 7th St. Los Angeles, CA 90014
COST: $75 per person, $16 beer flight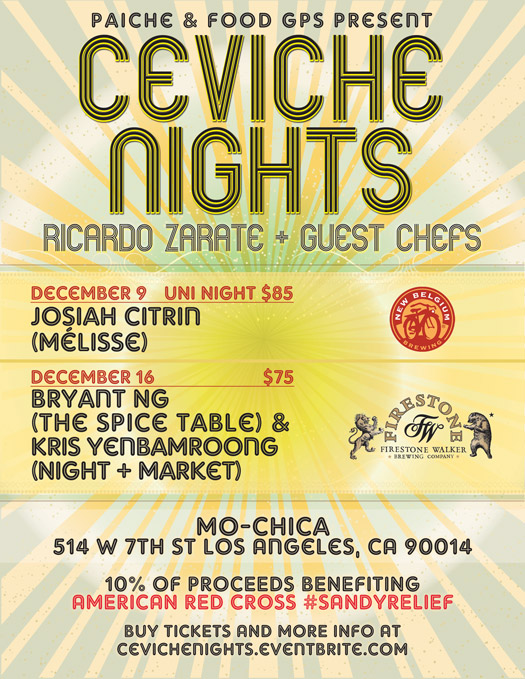 BEFORE YOU GO
PHOTO GALLERY
Common Mistakes When Making Ceviche