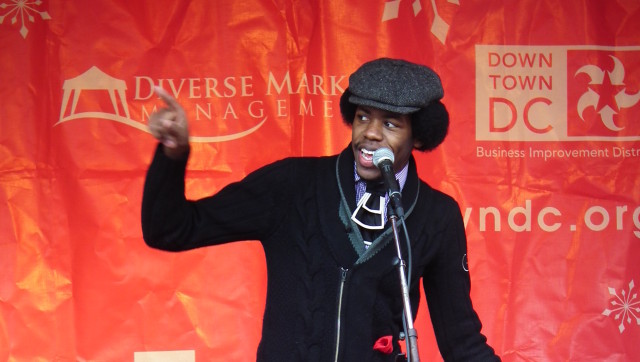 WASHINGTON -- The 8th annual Downtown Holiday Market kicked off Friday and runs through Dec. 23. Located on the F Street sidewalk in front of the Smithsonian American Art Museum & National Portrait Gallery, the easily accessible market attracts people with the smells of freshly made doughnuts, keeps them there with local music and helps get some holiday shopping out of the way with local art, jewelry, crafts, clothing and more.
This year's market will feature musicians from throughout the East Coast performing a wide array of styles. We're looking forward to popular jazz from Ian, Matt & Andrew (Nov 30. 5-7, Dec 13. 5 p.m.-7 p.m., Dec 23. 5 p.m.-7 p.m.), progressive hip hop from Christylez Bacon (Dec. 2, 2:30 p.m.-4:30 p.m.), blues from Jonny Grave (Dec. 14 2:30 p.m.-4:30 p.m.), jug band Snakehead Run (Dec. 18. 5 p.m.-7 p.m.) and indie folk from The Sweater Set (Dec 21. 5 p.m.-7 p.m.). There's music each day of the market, with more than one performance on the weekends.
In addition to the vendors and musicians, Santa and his elves visit will join the festivities on Fridays, Dec. 7, 14 and 21 at noon. The National Presebyterian School Choir will sing holiday carols on the steps of the Hotel Monaco on Friday, Dec. 14 from 4:30 p.m. to 5 p.m. The cast of "Les Miserables," currently at the National Theater, will sing a selection of songs on Saturday, Dec. 15 from 11:30 a.m. to noon.
The market is open everyday from noon to 8 p.m.
PHOTO GALLERY
Downtown Holiday Market
BEFORE YOU GO