They certainly look like more than just friends.
Rihanna and Chris Brown, who have refused to comment on rumors of a rekindled romance, appear to be very much back together in a recent photo posted by the "Diamonds" singer.
SCROLL FOR PHOTO
In the photo posted to her Instagram, Rihanna can be seen kissing Brown's head with her arms wrapped around his neck. "I don't wanna leave!!! Killed it tonight baby!!!" reads the caption, likely referring to Brown's Thursday performance in Frankfurt, Germany, as part of his "Carpe Diem" world tour.
This is not the first intimate photo Rihanna has posted of Brown. On Saturday, she shared a photo of Brown lying in her bed, shirtless.
Rihanna and Brown are likely back together, having recently celebrated Thanksgiving in Berlin and bought matching Rolexes. But the exes have been coy about Round 2 of their relationship, which first ended in 2009 after the "Don't Wake Me Up" singer assaulted the 24-year-old beauty.
In a recent interview with Power 106 radio host Big Boy, Brown said that they are "working on their friendship," which has blossomed since the singer broke it off with model Karrueche Tran.
"As far as our personal life, I think people just got to give it a chance -- or not even give it a chance, but shut the hell up," Brown told Power 106 of his relationship with Rihanna. "It's me. At the end of the day, whatever opinion they have ain't going to change nothing I'm doing."
Rihanna does not appear to mind that Brown sullied his already-damaged reputation with a vulgar Twitter attack aimed at comedian Jenny Johnson. In a recent interview, the R&B star called Brown "pretty dope."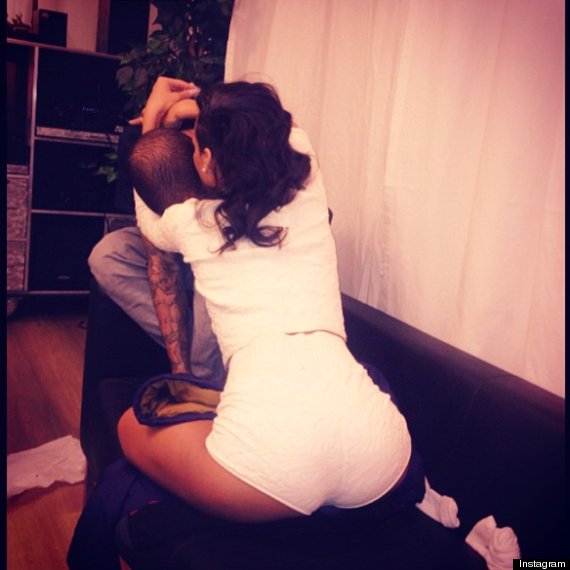 BEFORE YOU GO
PHOTO GALLERY
Rihanna Photos