As the "fiscal cliff" draws nearer and politicians polish their ability to duck blame, a Friday editorial in the Wall Street Journal has bravely taken the lead in analyzing past presidents' economic performance -- and wags a stern finger in Obama's direction.
Included alongside the analysis, which focuses on economic growth experienced under two-term presidents, is a chart fittingly titled, "Presidencies and Growth."
President Obama's first four years in office are listed, as are Bill Clinton and Ronald Reagan's eight years. But what about George W. Bush?
Either by accident or intention, New York Magazine notes, it seems the Wall Street Journal has omitted the 43rd U.S. President from its chart. (Bush's father, President George H.W. Bush, is also missing, but with more justification. The elder Bush came up one term shy of fitting into a debate on two-term presidents and growth.)
In the paper's defense, the editorial does acknowledge Bush, with one sentence in the 7th paragraph that notes the critical role economic health plays in defining a president's legacy.
Bush's term "ended in an economic panic," they write, before briskly moving on to applaud the high growth experienced during Reagan's and Clinton's second terms.
Screen grab of the odd omission [via the Wall Street Journal]: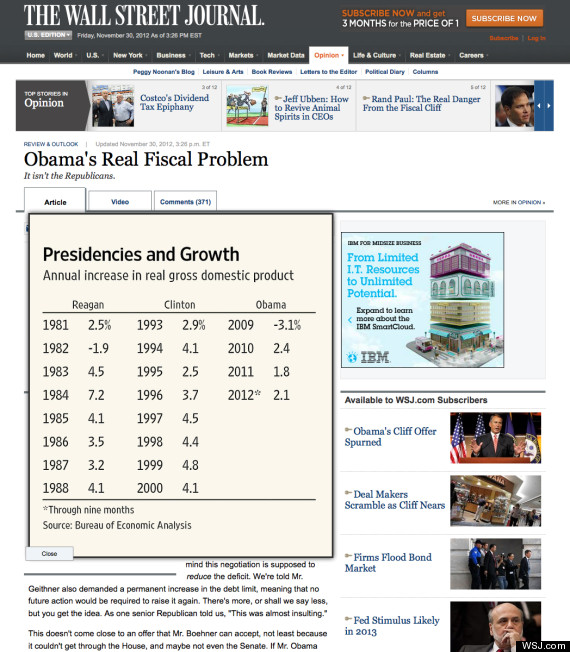 BEFORE YOU GO
PHOTO GALLERY
14 Facts Obama Doesn't Want You To Know