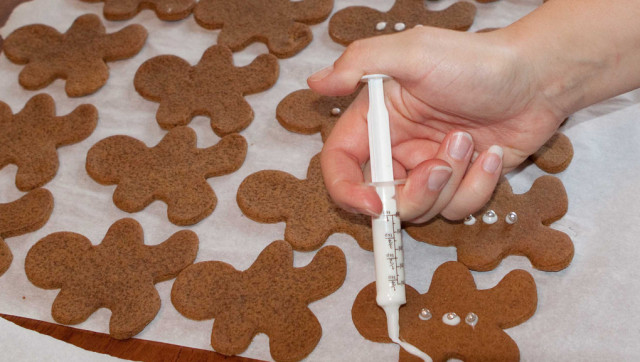 If holiday baking is on your list of things to do this season, but the thought of your shaky hand holding a piping bag is stressing you out, we've stumbled across just the solution for you. Approach cookie decorating with the precision of a surgeon and let it be stress-free: dump the piping bag and grab a syringe.
Piping frosting with a bag can be a nightmare if you don't have the practice. (And many of us home bakers exercise our skill once a year, around the holidays.) Between getting/keeping the frosting in the bag and applying the right amount of pressure, decorating cookies quickly goes from fun holiday activity to the worst idea ever.
When you use a syringe, you have more decorating control. The only downfall is that you'll have to refill the frosting more often -- but that's a small price to pay for well-decorated (and stress-free) holiday cookies.
If burning, not decorating, cookies is your Achilles heal, we've got a solution for that too. Holiday baking is going to be easy this year.
Want to read more from HuffPost Taste? Follow us on Twitter, Facebook, Pinterest and Tumblr.
Check out these cookie recipes.
PHOTO GALLERY
Cookie Recipes
BEFORE YOU GO