You need a smokin' hot celeb to pull off coverlines like "Epic Orgasms" and "Extra Sexy," which is percisely why Cosmopolitan South Africa tapped Tyra Banks to heat up its December 2012 issue.
The model-splash-mogul proves that she's still got the goods after all these years in a stunning gold mirrored corset by The Blonds, skin-tight skirt by Herve Leger and some added bling with earrings by CC Skye.
In the issue, Tyra talks about a few of her favorite subjects-- self-esteem and body image--since she has struggled with both throughout her career. But the 38-year-old star has embraced her so-called flaws (see: large forehead and muffin top) and turned that acceptance into inspiration for others.
"Loving yourself is paramount, no matter what shape, size or color you are. I call it being flawsome: you + your flaws + awesome = flawsome," Tyra told Cosmopolitan.
This past October Tyra threw the first-ever Flawsome Ball to raise funds for The Tyra Banks TZONE foundation at the Lower Eastside Girls Club.
And when she's not making young girls feel beautiful, Tyra stays busy with "America's Next Top Model" (can you believe it's the 19th cycle?), developing a new TV show called "Fivehead," reprising her role as Eve for the sequel of Disney's "Life-Size" and showing the world how to "smize" one app at a time.
Check out Tyra's stunning Cosmo cover below--and in celebration of her 39th Birthday on Tuesday (December 4), we've pulled together a collection of her hottest magazine covers. She's still got it!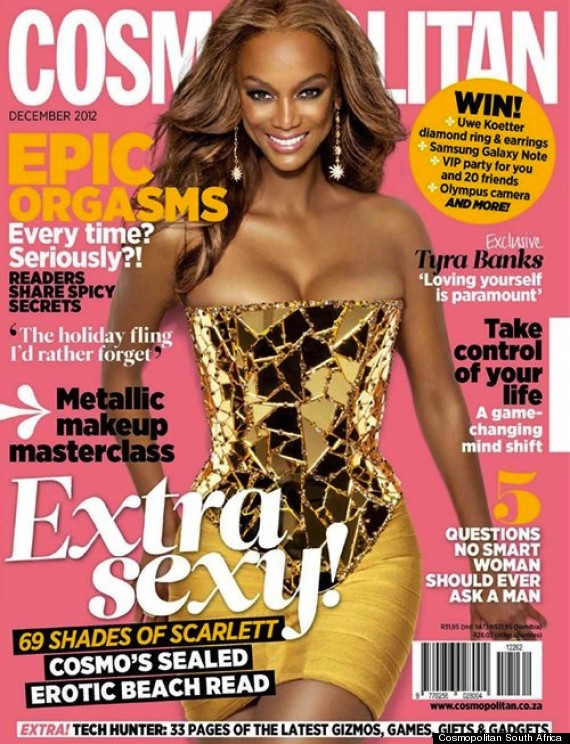 PHOTO GALLERY
Tyra Banks' Hottest Magazine Covers
BEFORE YOU GO