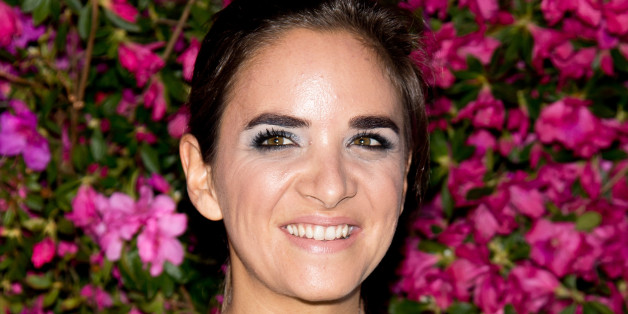 "I love showing off my city! I feel extremely proud and excited," The Webster CEO and co-founder Laure Heriard Dubreuil told The Huffington Post on the heels of Art Basel Miami Beach 2012. "I feel like I've been an ambassador of Miami for the past five years. People have this image of Miami that is ultra-superficial, when it's actually very rich culturally. I think it's important to share it with the world, especially with people who are so sophisticated and refined and people with such strong education."
Heriard Dubreuil, who is engaged to artist Aaron Young and serves as a bit of a bridge between the fashion and art worlds, said that she hopes people visiting town for Art Basel recognize what a unique position Miami is in as a city.
"It's great to show that Miami is extremely rich culturally and booming financially," she said. "It's such an interesting city. It's such a strong financial city with such amazing weather, on the water. There are only a few cities in the world that are so strong economically and also on the beach."
Over the coming week, Heriard Dubreuil will keep extra busy, shuttling between The Webster, the various art fairs and several exclusive events. She shared some of the events that are on her "must-see" list with The Huffington Post. Check them out below:
Tuesday, December 4
Design Miami: The one exhibition I will check out for sure is Delfina Delettrez. She's showing at Antonella Villanova. She's a good friend and I love her, I think she's extremely talented. And she designed exclusive earrings for us for Art Basel at The Webster! Design Miami is super important. It started in Miami, and I love to push for the Miami things. I would definitely check out Delfina's show.
Moving The Stills -- GIF exhibition with Paddle 8 and Milk Studios: Aaron has a short movie being released on Tuesday, so I will definitely go to that.
MoCA Miami Opening: There's a show by Bill Viola called "Reflecting Pool." I think it's amazing, Bill Viola is really the pioneer of video art. And these were made around 1977, which is the year I was born. Now we're so used to video, but I think it's really interesting to see the first art videos that were made.
White Cube Party at Soho Beach House: I'll end the night at the White Cube Party at Soho House if I'm not too tired!
Wednesday, December 5
Cafecito Neptuno: I'm staying at The Standard, and they have a popup coffee shop that serves real Cuban coffee. It's in conjunction with a Jose Parla show called "The Wrinkles of the City, Havana, Cuba," so I'll start my day there.
Stephanie Lacava Book Signing: We're hosting a book party for Stephanie Lacava's Extraordinary Theory of Objects at The Webster. I'm saving it to read for my Christmas vacation!
Galerie Perrotin: At the main fair, I heard that Perrotin is organizing for Takashi Murakami to curate portraits, and you can ask for Murakami to do your portrait. I'm sure it's crazy expensive, but it sounds amazing!
ShanghART, H Space and Long March Space: I spent eight years studying Mandarin, and so I definitely want to check out the Chinese galleries showing at the main fair. Some of my favorite Chinese artists are Cai Guo-Qiang, Liu Dan and of course Ai Weiwei (but everyone loves Ai Weiwei!).
Stella McCartney Tea Party: We're having a tea party at The Webster for Stella McCartney. It's going to be a real British tea party at the store, which I think is nice for people to relax after the fair.
Valentino Pop Pois: We're also hosting the launch for a capsule collection from Valentino called Pop Fois at The Webster. It's very nice and fresh, and perfect for Miami — clothing for the beach but also bags for nights during Art Basel.
Art Public: This is going to be a very interesting opening. It's an outdoor exhibition of 20 works, organized by the Bass Museum, which is a very good museum here in Miami. And there will be a performance by Alex Israel. I really what he does — I saw a show he did in a church in Italy this summer which was very nice, so I'm really looking forward to this.
Chanel Dinner for "The Dash Snow Initiative": There's going to be an auction to benefit the Henry Street Settlement's Boys & Girls Republic with pieces from Dan Colen, Ryan McGinley...all our friends.
Thursday, December 6
Miami Galleries: For me it's important as well to see the Miami galleries. For example, I love Galerie Diet, a gallery in Wynwood. There's an amazing woman who owns it named Nina Johnson-MIlewski, who also does this free newspaper called Miami Rail. I really wanna see her show. I also want to check out the Rubell Collection. I want to see the M Building, which used to be the Perriton Gallery. Now the interior decorator and architect Chahan Minassian has a showroom there, and they are doing a great show with pieces from Valentin Carron. He's Swiss, and a good young artist that I want to check out. I love what he does, and he's been selected to represent Switzerland in the Venice Biennale.
Fairchild Tropical Botanical Garden: This is another place that I love in Coral Gables. They do shows there. A few years ago I saw the biggest outdoor Lalanne exhibition, and it's so beautiful. You have all of the different kinds of tropical flowers and plants. It's really incredible, and it's part of Miami. The Cuban artist Jorge Pardo is doing a show there, and I'm very excited to check it out. I think it's with lights and everything, so I'm hoping to go later in the day.
Plane Text: I heard recently that Morgans Hotel Group has commissioned artists like Ed Ruscha, Richard Prince and John Baldessari to re-do some of the ads pulled by planes on the beach. Throughout the fair they will have those planes re-imagined by fifteen artists. I think this is really, really cool and can't wait to see it.
Kelly Klein Book Signing: We're having a book signing in the afternoon for Kelly Kelin, who just released a new book called Pools. I'm a big swimmer, and I feel like pools are my second home. That's when I relax, so I feel like it's a great theme for a book.
Bruce Weber Book Signing: I'll also go to the Bruce Weber book signing at The Standard. He's such a strong personality, and he spends six months of the year in Miami. He's super supportive of The Webster, as well.
Visionaire Party: This actually is great. They're doing an installation by Jonathan Horowitz, and it's a free tour, so you bring something that you can't use and you take something away. I have to find something to bring to that!
Friday, December 7
Design District: I will check out lots of stores opening in the Design District. Hermes is doing something with Hiroshi Sugimoto, a Japanese artist whose pictures will be printed on the classic famous Hermes silk scarves. I know Prada is opening, Marni is opening, Dior Homme is opening...so I will also check out what's going on there.
Maripol Launch Maripol is the famous artist from the 1980s. She did a jewelry line called Atomic Glamour with Madonna in the 1980s, and she's relaunching it exclusively at The Webster.
Terry Richardson Book Signing: Terry's doing his Terrywood book signing at The Standard with OHWOW Gallery, who I love. They used to have a space in Miami, but now they're only in LA. But they have a show here now which I will check out.
Pharrell Williams Talk: It's about his book, Pharrell: Places and Spaces I've Been, published by Rizzoli. It's conversations with friends like Murakami and Jay-Z, and his inspirations over the world. He's a good friend, so I want to go to support him.
Saturday, December 8
Scott Schuman Book Signing: We're hosting the book signing for Scott Schuman from the Sartorialist at The Webster, so I am definitely looking forward to that.
Weird Miami Bus Tour: Another thing that I think could be great is the project by Shell Reflexive. It's called a Weird Miami bus tour. It's exhibitions by artists to lesser-known places around Miami. It's like showing another Miami, and places where people don't usually go. If I still have some juice in me, I think it could be a fun way to end the week!