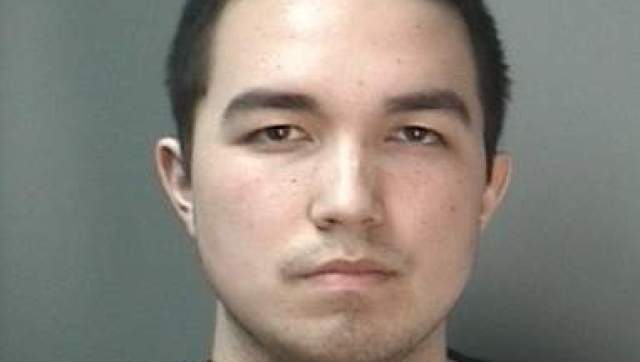 A student at Indiana University is being accused of torturing and killing several cats.
Christopher Gugliuzza, 19, was arrested in Bloomington, Ind., on Monday after his girlfriend told police that Gugliuzza stole a cat named Lennox from an animal shelter and proceeded to choke, drag and smash the animal aginst the wall. Afterwards, police say Gugliuzza took the cat to a wooded area where he killed it, the Indiana Daily Student reports.
Gugliuzza has since admitted to "stealing a cat from an animal shelter and tying a cord around its neck," according to WBIW.
His girlfriend said this is not the first time Gugliuzza has killed a cat, WISH TV reports. She said she suspects Gugliuzza killed three pet cats, Rosie, Peaches and Misty -- the latter Gugliuzza allegedly killed in a rage after the cat scratched him. He buried Misty in the same wooded area where Lennox was allegedly killed. Peaches "had to be put down." Rosie died under unknown circumstances.
Gugliuzza, who lives with three roommates, is now facing suspicion in the deaths of those cats, as well injuries sustained by a cat belonging to one of his roommates.
"My cat, his name was is Einstein, he had a broken leg and his face was like, it was just bleeding and stuff," Gugliuzza's roommate Aaron McGuin told WBIW. "It's been mind boggling to me to understand what happened to my cat and understanding like how badly he was hurt, like how did that happen by himself. I couldn't get it through my head, but now I have clarity, what actually happened. I understand he was abused."
UPDATE, 12/6, 3:46 p.m.: The Indiana Daily Student reports:
Lennox lives.

The female orange and white cat that was tortured, mutilated and left for dead in a wooded area by IU sophomore Christopher Gugliuzza is alive and well.
Lennox is residing at a vet clinic and has a fever, but X-rays show Lennox is not suffering anything "too serious," the IDS reports. However, Bloomington Police Department Detective Sgt. John Kovach said whether the cat lives or dies will not change the charges against Gugliuzza.
BEFORE YOU GO