Arizona police are hoping a woman's eye-catching tattoos will help detectives find and question her about a Thanksgiving Day homicide.
According to the El Mirage Police Department, 27-year-old Rachel Diane Smith, also known as "Featherwood" and "Shoelaces," is wanted in connection to the Nov. 22 slaying of 29-year-old Tod Guiles.
Guiles, police said, had recently been released from prison after serving a brief stint behind bars for drug charges. Guiles and Smith were acquaintances and allegedly got into an argument the night before Thanksgiving.
"They went in the garage and that's when they got into a little feud, argument," a neighbor, who did not wish to be identified, told 3TV.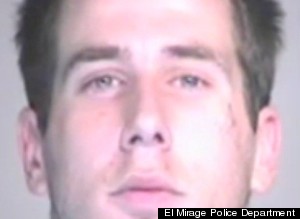 The details of the alleged argument are not yet known, however police say Guiles was shot and killed at about 10 a.m. on Thanksgiving Day, in the area of 11900 W. Flores Drive.
Authorities have yet to comment on what, if any, evidence they have linking Smith, a transient who's also wanted in Southern California, to Guiles' murder.
Smith is described as a white female, 5 feet 4 inches tall, 130 pounds with brown hair and blue eyes. She has numerous tattoos, including very prominent art work on her neck.
According to a spokesperson for El Mirage police, Smith should be considered "armed and dangerous."
Anyone with information on Guiles' homicide or Smith's whereabouts is asked to contact El Mirage police at 623-933-1341 or Silent Witness at 480-948-6377.
BEFORE YOU GO
PHOTO GALLERY
Mugshot Tattoo Legends