Two men who stole a Henry Moore sculpture worth $770,000 earlier this year recently confessed to selling the work of art to a UK scrapyard. The unwitting duo revealed that they unloaded the "priceless" work of art for a measly £46 ($74), according to The Daily Mail.
Yesterday Liam Hughes and Jason Parker, who stole the "Working Model for Sundial" from the property of the Henry Moore Foundation in Hertfordshire, were sentenced to a year in prison, reports The Telegraph. The duo was also charged with stealing parts of Moore's "Upright Motive Number 7," according to The Daily Mail. The pair tore that sculpture from its base a mere four days after nabbing the sundial and sold the £100,000 ($160,000) work as scrap for £182.60, or just under $300.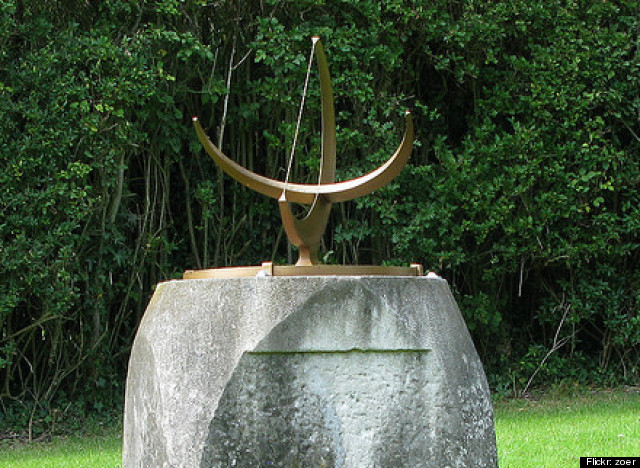 "Working Model for Sundial", 1965
Thankfully, both stolen sculptures were retrieved before they could be turned into melted metal. The scrapdealer who purchased the damaged pieces contacted the police after seeing an appeal for the art's safe return on television and promptly returned Moore's work. The cost of repairing the sculptures, however, stands at over £13,000 ($20,000), according to court statements.
Moore is widely acknowledged as one of the most prominent British artists, known for making sure that casts of his works were not used to make copies. "The value of Sundial is put at something like half a million pounds, but the truth is it is actually priceless because it cannot be replaced should it be lost," Judge Marie Catterson stated during the sentencing trial of Hughes and Parker.
Sadly, this is not the first instance a Moore sculpture was sold for scrap. In 2005, a piece worth $4.5 million was taken from the same grounds; police later determined that the artwork was melted down and sold for $2,300. The lawyer for the Moore Foundation stated in court that the thefts raised concerns about the foundation's position in the international art market: "If the reputation is that they cannot look after their own works, why would it be safe for them to look after other works?"
What do you think of the Henry Moore theft? Let us know in the comments section. And check out these other legendary art heists in the slideshow below:
PHOTO GALLERY
Greatest Art Thefts
BEFORE YOU GO