This week, the Public Theater in New York played host to an impressive group of artists and writers including Salman Rushdie and Carl Bernstein. "Thought is Free: An Evening of Protest and Solidarity" was part of the theater institution's Public Forum series, dedicated to cultural figures who have been imprisoned for voicing their beliefs.
The night of public readings was hosted by Liev Schreiber and paid tribute to three of the creative sector's most prominent champions of free expression -- Pussy Riot, Ai Weiwei, and Eskinder Nega. The honorees were selected for their persistent advocacy of freedom of conscience in the face of imprisonment and ongoing persecution in their home countries.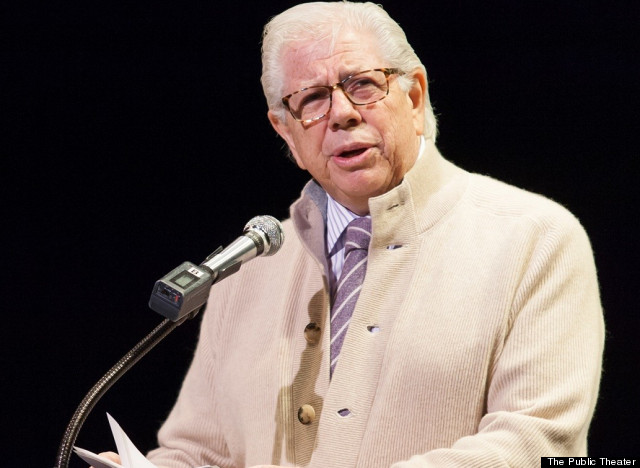 Carl Bernstein at The Public Theater
The night kicked off with Carl Bernstein. The Pulitzer Prize-winning journalist known for his groundbreaking coverage of Watergate reading an article written by Ethiopian reporter Eskinder Nega, who has been sentenced to 18 years in jail on anti-terrorism charges. "[This year] could be the year when we take justice for granted," Nega wrote. "Momentum is on the side of freedom."
Sentiments of hope were echoed in a letter from Chinese artist Ai Weiwei, read by Iranian-born artist and filmmaker Shirin Neshat. The outspoken dissident advised artists to remain cognizant of their role in politics, writing: "All artists are activists to some degree... You can not divide aesthetics from basic human struggle."
Notably missing from the event were rock icon Lou Reed and artist Laurie Anderson. The duo was originally scheduled to read Pussy Riot member Maria Alyokhina's writings, but were unable to attend at the last minute. Liev Schreiber stepped in to recite the closing statement of the group's youngest member instead. He was followed by an on-stage discussion between "Satanic Verses" author Salman Rushdie and Nathan Englander, the playwright behind "The Twenty-Seventh Man." The exchange was highly entertaining, as Englander responded to almost all of Rushdie's "brush-with-death" stories with: "That's amazing, because I'm always terrified and no one is ever chasing me."
"Thought is Free: An Evening of Protest and Solidarity" is part of The Public Theater's ongoing series, Public Forum.
PHOTO GALLERY
Artists And Writers Who Appeared at 'Thought is Free'
BEFORE YOU GO