Amidst the rival millionaires and food-deprived fashionistas cloying for their opportunity to mingle with the art world's mightiest contenders, one group of artists is attempting to bring politics to the forefront of Miami's art fair weekend.
Artists 4 Israel is showcasing an art installation depicting a bomb shelter under a rocket attack. On display now at Overture Miami -- one of the many art fairs presently taking over the city -- the multi-media installation provides overwhelmingly stark visuals. Picture a dull enclosure decorated with tally marks, neon orange graffiti and an abandoned baby doll slumped in a corner. Not your average Art Basel Miami Beach must-see, is it?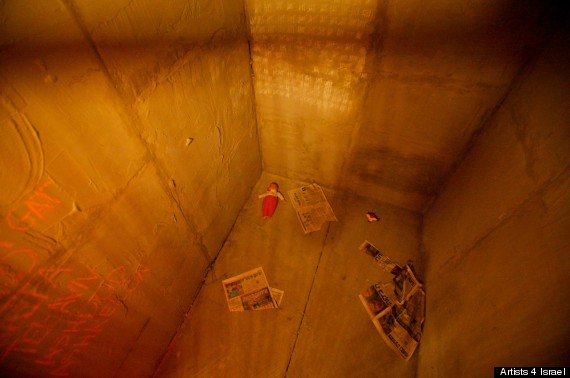 A similar installation by the group appeared in NYC's Washington Square Park last year, equipped with video footage of frightened children under siege. Artists 4 Israel president Craig Dershowitz explained to WNYC: "There [are] anti-Israel protests in this park all the time, with all kinds of horrible information that instigate towards the violence that we all suffer," he added. "What we want to do is just put [up] beauty. And graffiti is one of the quickest, easiest and most New York forms of beauty that we could come up with."
The work of Artists 4 Israel is decidedly political (we're talking about a bomb shelter, people), but the group's website states otherwise: "We do not take a stand on political issues," it reads. "Instead, we give these artists a stand on which to display their work."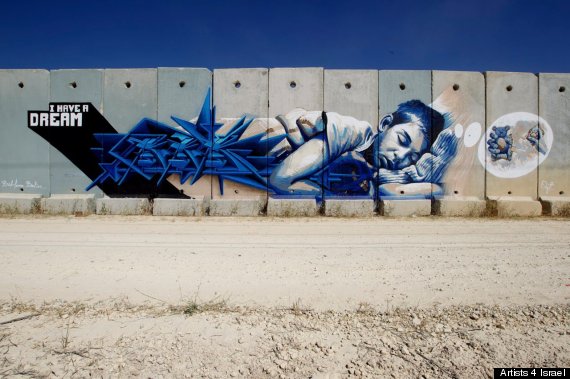 Banksy's graffiti work is also on display in Miami this weekend, courtesy of gallerist and controversial dealer Stephan Keszler. One of the works is a mural of a small girl frisking an Israeli soldier, which originally appeared on the West Bank wall near Bethlehem. An Artists 4 Israel participant by the name of Belin has also adorned the barrier with his graffiti work, creating an image of a child dreaming of passing toys over the fence (seen in the picture above).
Let us know what you think of the political slant at this year's fairs. Is Artists 4 Israel really as non-political as they say?
View some of Banksy's work below:
PHOTO GALLERY
Banksy images
BEFORE YOU GO