Do you know this woman?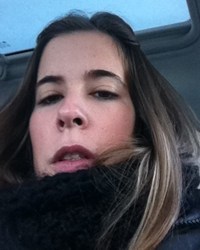 Police in Sussex, England -- and one miffed former iPhone owner -- are hunting for her, after she apparently stole an iPhone from the Coalition nightclub, accidentally took a photo of herself and then inadvertently uploaded it to the Internet, sharing it with the original owner, who turned it over to the cops.
The reason the suspected crook snapped the picture and tipped off the original owner? An app called iGotYa, which automatically takes a photo with the phone's front-facing camera and then emails the photo to a pre-selected email address after one unsuccessful attempt to unlock the phone.
The app works like the popular Prey software for the PC and Mac: After a baddie attempts to crack your iPhone's password once (or twice, or thrice, or however many times you set the app for), three things happen that can help lead to the criminal's capture. First, the crook's photo is taken and sent to the owner's email address. Second, the crook's location is pinpointed using the phone's GPS and is also sent to your email. And third, a text message is sent to the phone, asking the criminal to kindly return the iPhone to its rightful owner.
If the burglar doesn't, you get a manhunt much like the one occurring in Sussex, where police have asked anyone with information to contact them.
This all-too-familiar tale of an iPhone gone missing again emphasizes the importance of acquiring an app like iGotYa for your phone, whether it's an iPhone, Android, Windows Phone or other. (Interestingly, you will not find iGotYa in Apple's official App Store; it is only available for jailbroken phones).
At the very least, though, you should be securing your phone with a lock screen password, and iPhone owners should install the free Find My iPhone app from Apple, which allows you to remotely lock or wipe your phone and acquire your phone's location from your computer if it goes missing. Both Android and iPhone owners should also consider Lookout, a more robust version of Find My iPhone that provides much of the same security for free. Prey also provides a mobile version for Android and iOS that could track down your thief, too.
If you have any information on the purloined iPhone, or the woman in the photo above, you are encouraged to contact Sussex police.
BEFORE YOU GO
PHOTO GALLERY
What To Do If You've Lost Your Phone