"Warm Bodies," a new zombie comedy with romantic elements from "50/50" director Jonathan Levine, is already lined up as one of 2013's most anticipated first-quarter releases, but if you still aren't onboard, perhaps this cheeky new poster will do the trick.
"Warm Bodies" stars Nicholas Hoult ("About A Boy," Jennifer Lawrence's significant other) as R, a zombie who forms a relationship with Julie (Teresa Palmer), a human survivor left behind after the zombie apocalypse. Per the official synopsis:
Julie sees that R is different from the other zombies, and as the two form a special relationship in their struggle for survival, R becomes increasingly more human – setting off an exciting, romantic, and often comical chain of events that begins to transform the other zombies and maybe even the whole lifeless world.
Rob Corddry ("Hot Tub Time Machine") stars as R's best zombie friend, while Dave Franco, Analeigh Tipton and John Malkovich lend support as well. HuffPost Entertainment is happy to debut a new teaser poster for "Warm Bodies," featuring Hoult and Corddry. Check it out below.
"Warm Bodies" is out in theaters on Feb. 1, 2013. To see the film at a special early screening in your city, click here. Check out other "Warm Bodies" character posters over at Tumblr.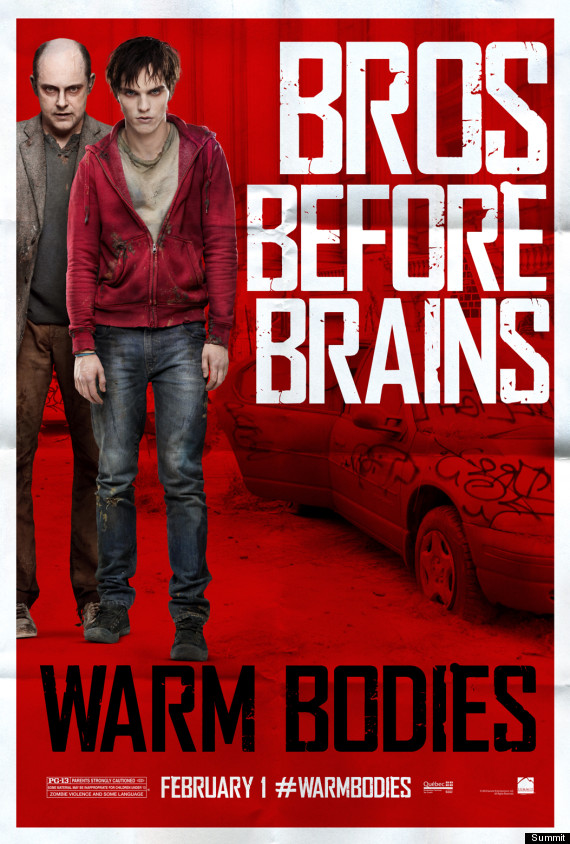 PHOTO GALLERY
Child Stars All Grown Up
BEFORE YOU GO