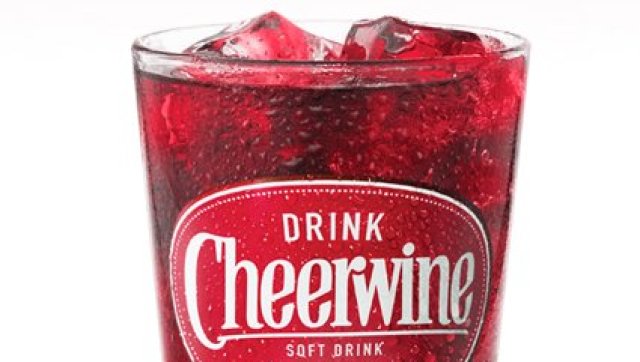 If you are from North Carolina, or a surrounding area, you have definitely heard of Cheerwine. Called the "Nectar of North Carolina," this hyper-carbonated, cherry-flavored soda may just course through Carolinians' veins. But, up until a few years ago, almost no one else had ever heard of it.
Cheerwine celebrated its 95th birthday in 2012, making it the longest-running soft drink company to be owned and run by the same family. Today, Cliff Ritchie, the great grandson of inventor L.D. Peeler, helms the company. But where did this wild cherry concoction begin? The story begins in 1917, when Peeler bought out a bankrupt beverage company out of Kentucky, and brought it back to his home state of North Carolina. Soon after, Peeler bought the syrup formula from a Saint Louis salesman for a "unique cherry flavoring," and Cheerwine was born. Although Cheerwine contains no actual wine, it is a deep burgundy color that wouldn't be out of place in a wine glass. If you want to keep things classy, that is.
The soda, like Michigan's Vernor's, has a rabid cult following. In 2011, The New York Times wrote a piece investigating a sudden boom in sales, that brought Cheerwine out of the Carolinas into such far-flung locales as New York City, Japan and England. The boom is as-yet unexplained, except for the possibility that after tasting it once, you tell everyone you know that they have to try it. At least that was our experience.
You can find retailers that sell Cheerwine, or order up a case on the company's website.
Want to read more from HuffPost Taste? Follow us on Twitter, Facebook, Pinterest and Tumblr.
BEFORE YOU GO
PHOTO GALLERY
American Regional Foods