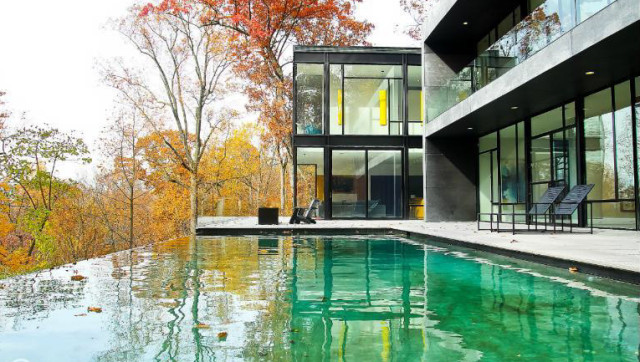 WASHINGTON -- Assuming that the various apocalyptic prophesies about 12/21 are true just for a moment, wouldn't you agree it's a great time to take out a big big mortgage, and see the end of the world at your new luxury home?
This week's real estate roundup features the most apocalypse-worthy D.C.-area real estate around. We've got a gigantic horse farm, a Disney castle of a house, a whole bunch of impossibly fancy luxury condos and more pads featuring chandeliers over bathtubs than we previously knew existed. (Evidently that's a thing! A thing that strikes us as being a little bit dangerous, maybe -- but, hey, if the end of the world is coming, let's leave aside these more plebeian concerns about water and electricity being a bad combination.)
Our pick: Contemplate eternity in that infinity pool pictured above. It sits by a stunning contemporary house on top of a private hill. It'd be the perfect place to see the end of the world. Or, even better, to see the world keep going on for a nice long time.
PHOTO GALLERY
Luxurious Houses
This week's listings come from Trulia and Realtor.com. Any real estate topics you'd like to see us tackle? Any great houses you want us to know about? Want to drop a line and say hello? Get in touch at dc-tips@huffingtonpost.com.
BEFORE YOU GO