Fox has decided to replace all-new episodes of Sunday night's "Family Guy" and "American Dad" with repeats, a network source confirmed to The Hollywood Reporter.
Due to the tragic shooting at Sandy Hook Elementary School in Newtown, Conn., which left 28 people (including 20 children) dead on Dec. 14, Fox made the change as to avoid airing any potentially sensitive content during this heartbreaking time.
The new episode of "Family Guy," "Jesus, Mary and Joseph!" and "American Dad's" "Minstrel Krampus" will be replaced by repeats of "Grumpy Old Man" at 9 p.m. and "Wheels & The Legman and The Case of Grandpa's Key" at 9:30 p.m., respectively, The Futon Critic revealed.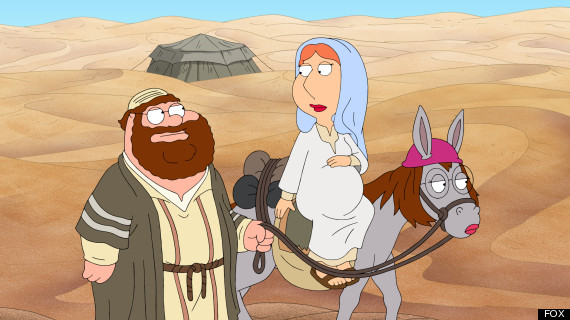 The network has also decided not to air the 7 p.m. repeat of "The Cleveland Show" titled "Die Semi-Hard." Instead, that episode has been replaced by another repeat, "Menace II Secret Society."
New episodes of "The Cleveland Show" (7:30 p.m.), "The Simpsons" (8 p.m.) and "Bob's Burgers" (8:30 p.m.) will air as scheduled.
Family Guy has been pulled by Fox in the past. After a string of storms and tornadoes left a path of destruction throughout the South in April 2011, Fox canceled the hurricane-themed crossover episodes of "Family Guy," "American Dad" and "The Cleveland Show" from its schedule.
Yesterday, Syfy also changed it's schedule due to the tragedy in Newtown. "Haven" was pulled from the network's Friday lineup due to its storyline about school violence. Syfy has yet to decide when the episode, titled "Reunion," will air.
PHOTO GALLERY
GOP Candidates As 'Simpsons' Characters
BEFORE YOU GO