The Republican congressman best known for interrupting President Barack Obama by shouting "you lie" during a major speech made an embarrassing mistake Monday on his campaign Twitter account.
"Congratualtions Senator Tim Scott!" proclaimed a photo that was tweeted from the account belonging to Rep. Joe Wilson (R-S.C.), @CongJoeWilson: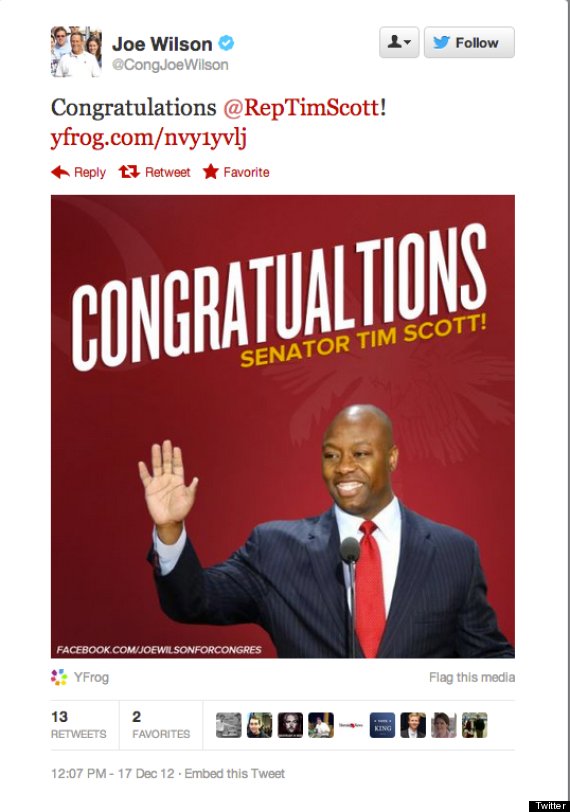 Wilson's misspelling prompted a flurry of jokes on Twitter, perhaps none funnier than one tweeted by The Atlantic's David A. Graham:
"You misspell!" RT @seungminkim: Uhhh #spellcheck RT @congjoewilson: Congratulations @reptimscott! yfrog.com/nvy1yvlj

— David A. Graham (@GrahamDavidA) December 17, 2012
And that's not the only mistake: At the bottom of the image, the URL for Wilson's campaign Facebook page is also misspelled: "https://www.facebook.com/joewilsonforcongres."
Scott, currently a fellow congressman from South Carolina, was announced Monday as the successor to Sen. Jim DeMint (R-S.C.)., who is stepping down early next year to run the Heritage Foundation. Scott will hold the seat until a special election is held in 2014. He'll become the Senate's only African American.
BEFORE YOU GO
PHOTO GALLERY
Longest Serving Senators In U.S. History