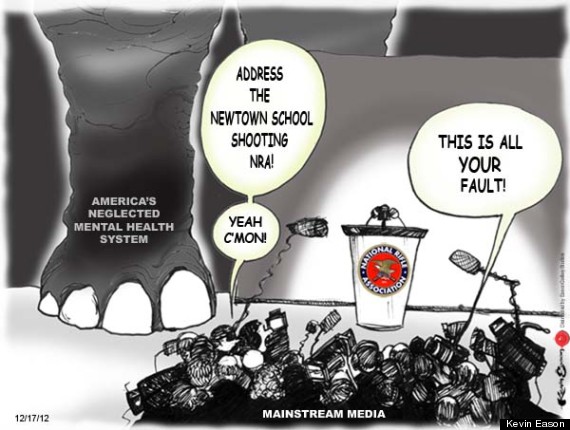 The horrific news of the shooting at Sandy Hook Elementary School on Friday not only left the small Connecticut town in shock, but also left the country reeling. The heartbreak over the loss of young children and educators even drove the president to tears.
In the aftermath of the massacre, the nation is now left pondering what action to take next. Once again, gun violence has returned to the spotlight, as with many looking to the National Rifle Association as a source of the devastating incidents that have taken place this year. But is there another issue we should be focusing on?
Cartoonist Kevin Eason calls attention to the other elephant in the room -- the country's neglected mental health system.
As details about the individuals linked to the crimes unfolds, whether it's the Newtown School shooter Adam Lanza; Aurora shooter James Holmes; or even Kansas City Chiefs lineback Jovan Belcher, one can't help but wonder if there's a way to avoid these tragedies.
What do you think? Is the mental health system being neglected? Is gun violence the only source of the problem? Tell us your thoughts in the comments section below.
About the artist:

Kevin Eason is a freelance editorial cartoonist and illustrator from New Jersey. His brand of satire covers news events in politics, entertainment, sports and much more. Kevin's work features include: Gannet, TVOne, Uptown, The Urban Daily, NAACP, Cengage Publishing, Bossip, WBLS_107.5FM, and various newspapers and magazines throughout the country. Follow him on Facebook.
PHOTO GALLERY
The Political Satire Comedy Of Kevin Eason
BEFORE YOU GO