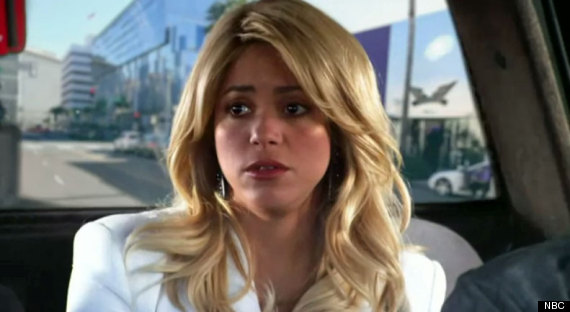 Apenas acabó la tercera temporada de "The Voice" este martes y ya nos están presentando lo que será la cuarta. Lo que más nos interesa como latinos, por supuesto, es que doña Christina Aguilera está siendo sustituida por Shakira. Sí, la "Loca" "Loba, "Ciega Sordomuda"... Christina se saltará el siguiente año porque tanto ella como Cee Lo Green estarán ocupados con sus respectivos proyectos musicales, así que entrarán al quite la colombiana y otra gran superestrella de la música, Usher.
Así que, rápidamente, NBC nos ofreció un adelanto de la interacción entre Adam Levine y Blake Shelton, quienes sí se quedan en el panel de "coaches", con la señora de Piqué y Usher. Primero los recogen en su camioneta sucia directo del hotel, y Shakira bromea si recién lavaron ese vejestorio. Adam les indica que no cederá su asiento de copiloto y los manda al asiento trasero.
En el camino, se notan las dotes para comedia de los cuatro, ya que empiezan a pelearse por el control del radio, hasta finalmente caer en una que está tocando "Total Eclipse of the Heart" de Bonnie Tyler y terminan todos en un divertido karaoke.
Curiosamente (¿o convenientemente?), todas las tomas de Shakira son del pecho para arriba, así que en ningún momento podemos tener un vistazo a su pancita. Eso sí, cuando esté en el show, la veremos presumiéndola a todo lo que da. Lindo, ¿no?
De todas formas, todavía falta muuucho para que los veamos en acción, ya que "The Voice" arranca otra vez hasta el lunes 25 de marzo.
PHOTO GALLERY
BEFORE YOU GO
Shakira
VIDEOS RELACIONADOS EN HUFFPOST: