WASHINGTON -- It's the end of the world! Or it's just an excuse to party on a Thursday. Or Friday. Or both!
Bars and clubs and bands in D.C. are getting into the Mayan spirit, or lack-there-of. Beginning tonight and running 'til the early hours of Saturday morning, there are many opportunities to pretend that there's no future.
Start the party Thursday night with a lecture! The Big Hunt, the Dupont Circle dive bar, is offering $3 pints from 7 p.m. to 2 a.m. The Artifacts for the Apocalypse event will feature "apocalypse expert" and author of "Drinking Your Way Through the Apocalypse" Prof. Stroheim Von Toolshed presenting artifacts he and his wife found on "their recent excavation under the Dumpster behind Fuddruckers in Chinatown."
Sasha Lord is celebrating the idea of time with The Year of The Long Count Apocalyptic Party at Comet Ping Pong with performances from Prince Rama from Brooklyn and Heavy Breathing from D.C. This all-ages show will also feature a 15-minute interactive exorcise and "pizza exorcism." No one knows what this means.
Though it's not technically an end-of-the-world event, GWAR headlines 9:30 Club on Thursday night and every GWAR show feels like the end of the world, so it counts to us.
12/21/12, the "end." Start early with a free show at the Kennedy Center. Listen Local First presents Black Masala on the Millennium Stage. It's being billed as an end-of-the-world party, but it seems to be a regular show. Same with Bearshark's end-of-the-world party at Red Palace and The A.K.'s, Max Levine Ensemble, Shirks, Booze Riot bill at Black Cat. That's fine with us. We like these bands. We'd like to see them again.
Twenty visual artists from D.C. took some time to ruminate on the end of days. The result is ARTpocalypse. Check out their work at this opening. The exhibit will be on display for the next few weeks, but, well, it's supposed to be the end of the world.
The biggest and best party of the night come from Brightest Young Things. BYT is teaming up with All Things Go and No Kings Collective with a multi-media, dance party in a fallout shelter on H Street. In addition to the regular fun, there will be a mechanical bull. That has to be on some bucket lists.
For a completely different experience, the swashbucklers at Piratz Tavern will have food and drink specials throughout the evening. If the world does end, you might as well be with a group that's fine with living on the high seas.
PHOTO GALLERY
Doomsday Ditties: Songs For The End Of The World
12/21/2012 6:57 PM EST
That's All Folks!
Since the world hasn't ended, we're going to conclude the live blog at this time. Thank you all for reading!
12/21/2012 6:35 PM EST
We Survived
@ jonesry28 :

Well... We survived the "misinterpretation of the Mayan calendar." Congratulations to all of you.
12/21/2012 5:50 PM EST
Half-Price Calendars
@ KeithCowing :

I guess mayan calendars will be half price at bookstores starting tomorrow
12/21/2012 5:42 PM EST
CARTOON: Mayan Calendar Doomsday Vision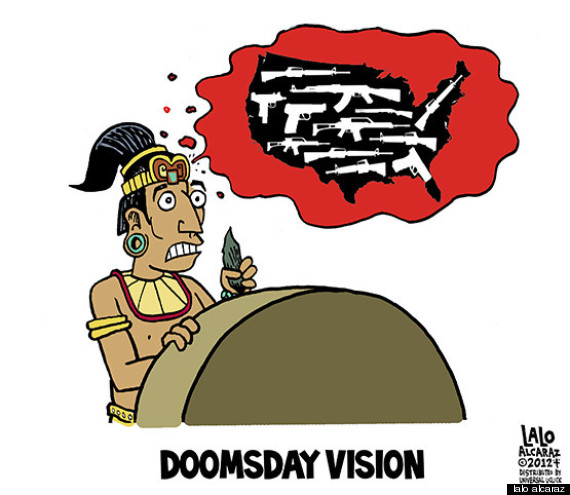 For his latest cartoon, Chicano artist Lalo Alcaraz depicted what the Maya's real doomsday vision might have been.
Read more about Alcaraz on HuffPost Latino Voices.
12/21/2012 5:32 PM EST
Standing Guard At Chichen Itza: Mexico's Boy Scouts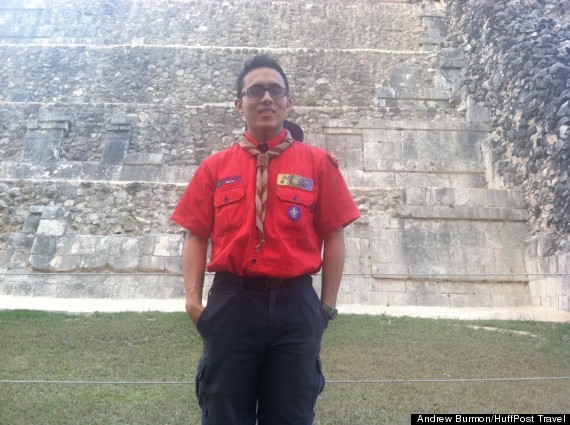 The temptation to ignore the signs, jump the ropes and climb the pyramid dominating the main plaza here gets the better of some visitors. That's why the archeological park has called in Yucatan's scouts, who stand at something approaching attention around the major ruins.
"We do this for special events," explains Gabriel Ancona, an 18-year old Rover Scout -- Mexico's equivalent to an Eagle Scout -- from nearby Merida. "I enjoy serving and, even though I'm not Maya, this is part of my culture because I grew up here."
Ancona says several of his friends had to help stop a crowd of 80 spiritualists, mostly American, who tried to climb El Castillo this morning.
"The scouts were definitely helpful with that," says Ancona, who is amused but unfazed by visitors' fervor.
He admits he finds some of the dancing funny but is complacent about the whole thing.
"They can believe whatever they want," he says. "They just have to stay off the ruins."
-- Andrew Burmon, HuffPost Travel
12/21/2012 5:23 PM EST
End Of The World Movies Worth Seeing
From zombies to a viral pandemic, Hollywood has imagined countless ways the world could end. While some plots are more far-fetched than others, most apocalyptic films have one thing in common: that glimmer of hope that the world won't end after all.
Overlooking blockbuster disaster films like "The Day After Tomorrow," CNN Entertainment compiled a list of the end of the world movies you should actually watch.
12/21/2012 5:01 PM EST
End Of The World Conspiracy Theory?
12/21/2012 4:44 PM EST
Ceremonies Mark A New Era
At dawn, crowds gathered at Tikal - one of the largest pre-Columbian Maya sites in Central America - for rituals sending out the old - and bringing in the new. Reuters reports.
12/21/2012 4:26 PM EST
In Mexico, What One Local Thinks Of The 'Apocalypse'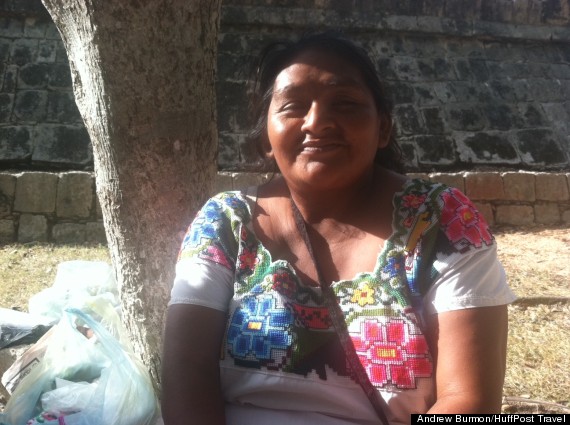 Silvia Guadalupe commutes every day from the Maya town of Xcalacop to the temple complex of Chichen Itza, where she sells handkerchiefs embroidered with bright flowers. Today, as the world fails to end, she is hoping to make enough sales to buy new clothing for her children.
"Only once we make enough money will we go home and celebrate," she says. "We are poor so we have to be here today."
She's not ashamed of her poverty and actually laughs about it. Hers is hardly a unique position within the Maya community. Still, it is a unique day.
"I think things may be a little better for the next few years," Guadalupe says, smiling at a customer who examines her goods and walks away. "It is nice that people care about our calendar, which is like a religion to many people here."
She expects to head home late tonight.
-- Andrew Burmon, HuffPost Travel
12/21/2012 4:12 PM EST
10 Epic Artworks For The End Of Days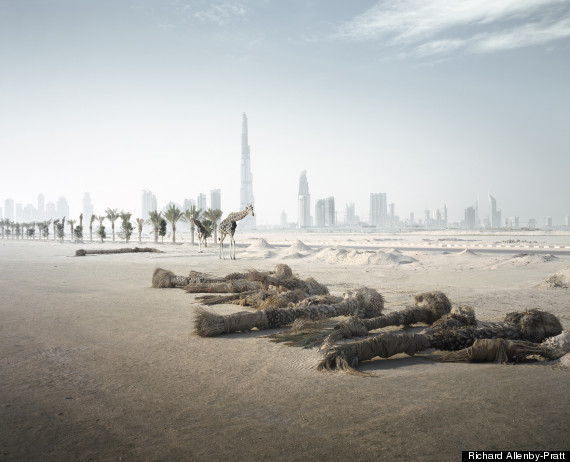 In honor of the anti-climactic affair, HuffPost Arts compiled their 10 favorite artworks that just scream "the world is ending!"
See the rest of the apocalyptic artwork on HuffPost Arts.
Related on HuffPost:
PHOTO GALLERY
Piratz Tavern