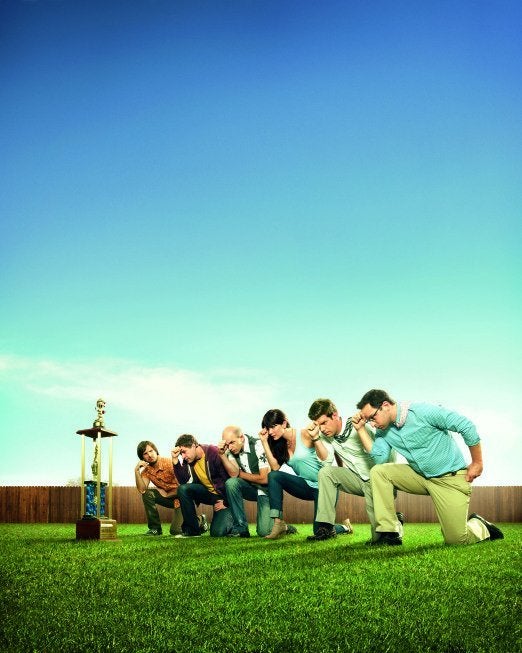 "The League" has been renewed for a fifth season, FX announced Thursday. The fantasy football comedy has been picked up for 13 episodes, with its fourth season set to conclude tonight (Dec. 20 at 10:30 p.m. EST) with two back-to-back episodes.
"'The League' is flat-out one of the funniest shows on television," said Nick Grad, Executive Vice President of Original Programming at FX. "Co-creators Jeff and Jackie Schaffer have such a perfect take on the material and the show has an amazingly talented ensemble cast of stars. Another season was an easy decision and we hope to have it on our schedule for many more years to come."
Co-creator Jackie Schaffer said, "It's a dream job -- we get to make a show we love with a brilliant cast on a fearless network. If the Mayans and Dirty Randy are right and the world ends tomorrow, at least we can say we made it to Season 5."
The comedy stars Mark Duplass, Stephen Rannazzisi, Nick Kroll, Paul Scheer, Katie Aselton and Jon Lajoie. Season 4 of "The League" is currently averaging 1.63 million total viewers on a first-run basis and 2.43 million when repeat airings are taken into account.
Episode descriptions for tonight's finale double-bill are below:
In the first of tonight's episodes, "A Krampus Carol" (10:30 p.m. ET), Andre and Trixie's relationship is put to the test. Jenny and Pete make special offerings to Shiva. Rupert Ruxin (Jeff Goldblum) has a gift for his son while Taco challenges the Mall Santa. In the final episode, "The Curse of Shiva" (11 p.m. ET), Gina Gibiatti returns and Pete has a decision to make. Ruxin enlists Rafi to protect himself during Scrote Season. Taco Corp has a New Year's Eve bash.
PHOTO GALLERY
Best New Characters of 2012
BEFORE YOU GO