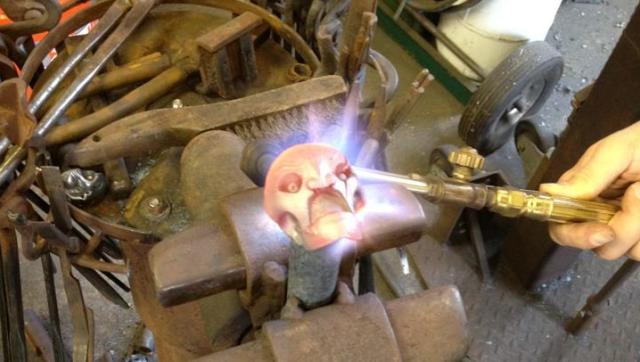 WASHINGTON -- If you're a fan of burlesque, faeries, science, the DC Rollergirls, medieval weaponry, dressing like a pirate, horror movies, robots and/or women in the comic book industry, you might well be a geek.
In which case you're doing yourself a terrible disservice if you aren't reading the DC Geeks blog and listening to the DC Geeks podcast.
For this installment of our My DC Q&A series, HuffPost DC caught up with three of the people behind DC Geeks -- Scooter, Brannen and Jeff, all of whom asked to be identified just by their first names -- to find out how geeky this town is and how people who like medieval weaponry celebrate the holidays:
The Huffington Post: Who are you, where do you live and how do you earn a living?
Scooter: I'm Scooter, grew up around the D.C. area and currently live in Virginia inside the Beltway (what do we call that anyhow? Beltway Insider? Are we still using that?). I do computer programming (sorta) professionally.
Brannen: My name is Brannen, one of the all around contributors for DC Geeks, starting to focus on physical activities and get togethers. I live about 20 minutes south of the District, and have for about the last decade. My day job involves research into educational patterns in the U.S., especially post-secondary education.
Jeff: My name is Jeff and I am a practicing attorney in the D.C. area. I live in Virginia, just 30 minutes south of the District.
HuffPost: Who are the DC Geeks? Who are geeks more generally?
Brannen: The DC Geeks are a group of friends who originally got together through shared interests many, many years ago. A while back Scooter (who knows everyone in a four state area) was asked why he wasn't doing more to get people together. That was the seed. These days we're people who are indulging our own hobbies and interests, and sharing what we discover with anyone who'll listen.
Jeff: There is no clear definition of geek, but at DC Geeks, it is our mission to serve a constituency defined by a shared interest in hobbies and activities that thrive on imagination. We are a community of people who live for the question "What if?".
In serving these people, DC Geeks covers the obvious: video game events, role-playing events, conventions dedicated to comic books or Star Trek or Anime. But we also spread the word about other events such as the DC Rollergirls or lectures on the role of neuroscience in free will.
Scooter: We're a group dedicated to developing and informing the D.C. local geek community of things that it might care about. Basically there wasn't a place for local geeks to find information about events and news relevant to them. We're providing that.
I tend to think of nerd and geek as being synonymous. As far as what a geek is, that's sort of argued all the time in the geek community. The easiest way to look at it is a group of people with similiar interests that all identify as geeks. Many of us were made fun of when we were younger for liking things that are considered childish, strange, or only for people super smart people. That's sort of the glue that binds us.
HuffPost: How long have you been keeping the DC Geeks blog? Why did you start it?
Jeff: Because I want to go on a date with Emma Stone. When I heard she was being cast in a Spider-Man movie, and Scooter was getting this blog up and going, I thought maybe, just maybe, I could work this thing into a ticket to the premier. Step 1: Because famous nerd blogger. Step 2: ??? Step 3: Date with Emma Stone.
In all seriousness, though, I think I let the pejorative attitudes towards being a geek and a nerd sink into my skin in high school. My father is a lawyer and my mother has her Ph.D, both are geeks, but I definitely grew up in a time when it was still something to be ashamed of. But consciously, I hate allowing other people's prejudices dictate how I feel about myself. I [have] been on a multi-year kick dedicated towards self-improvement.
Scooter: DC Geeks has been running for almost two years. I started it originally because I kept running into people wondering what's going on in the area and what's fun today. At first it was just a calendar where I kept all of the interesting events in the area. It just organically grew from there to what it is today.
HuffPost: Is D.C. especially geeky?
Brannen: I always thought of D.C. as a fairly geeky area, especially once you get down a couple of steps from the political caste. Between the IT folks, the policy folks, the planning folks, the dreamers and the workers, there's a large geek population here in D.C.
They can be found almost anywhere, truth be told. Want to enjoy a lecture on the social implications of how birth control hormones alter female reproductive behaviors towards males along with a good scotch? D.C. has that. What to meet random strangers and mimic fighting for land in medieval times via [a] board game? I can point you at half a dozen such meetings at cafes and coffee shops around the area without even pausing. Want to get advice on creating a replica of the outfit your favorite comic character wears? There's a local community.
That's been one of the joys of working for DC Geeks: I know of some geeky groups, I go, I talk to them, and discover through them three more groups that I had no idea that existed. It's this never ending rabbit hole of obsession and wonder.
Jeff: I have nothing to add to Brannen's already great response other than to suggest being less pejorative about the politicos. They are our people, too.
HuffPost: What are the best geeky things to do, see, eat and experience in the D.C. area?
Brannen: For me, personally? I love the ephemeral events, the ones that only exist for a day or a week. So events that deal with games, with social engineering, with science, with creation, with history, that's likely where you'll find me.
Jeff: [I] am going to go ahead and give a shout out to a few of my favorite things in D.C. that I think represent the geek tradition. First off, it is hard to find a better geek venue for a quiet cocktail than PX in Alexandria. It is a modern day speakeasy to that hearkens back to a romanticized era of film noir. Furthermore, they are bringing back the craft cocktail movement and if geeks are typified by exhibiting an unhealthy obsession with a singular hobby then these are our people. They meticulously research classic, long lost cocktails, hand crush their own juices, infuse their own liquours. Just a great, great place for a quiet night.
D.C. is also a great place for jazz, but for the geek crowd I highly recommend the Gaylord [National Resort, in National Harbor] on any Friday or Saturday night. Jason Paul Curtis and SwingLab perform their regularly, and having performed during several high profile geek events (Mafest, Katsucon), have developed a certain fondness for the geek crowd who they describe as some of their nicest and most polite fans. Also, the Mansion on O is just cool.
Scooter: I'll chime in with some of my favorites. Super Art Fight, the crazy Burlesque (especially nerd focused Nerdlesque) shows and the PX.
When it comes to food Amsterdam Falafel in Adams Morgan. That stuff is crazy addictive.
HuffPost: Are there any D.C. geek holiday traditions?
Brannen: There are some fun, newly minted holidays that some geeks are trying to push into wider consciousness. Yuri's Night, the 5th of November, Mole Day, Ninja Day, etc.
As for holidays, it depends on the geek. I tend to be very, very old school in my holiday celebrations. The holidays aren't necessarily geeky, though, I must admit that I am truly sorry I missed the Krampus get together this year.
Jeff: We do not have holidays. Despite having a nerd in the White House, the government has yet to honor our requests that the release of every new Superhero movie be observed as a federal holiday. We do have days of observance. Big examples are May the 4th Be With You in honor of Star Wars, which premiered on May 4th.
HuffPost: What is the best thing in the D.C. area that non-geeks don't know a lot about?
Scooter: Piratz Tavern. A pirate themed bar out in Silver Spring. Go there dressed as a pirate sometime. They'll treat you right.
HuffPost: Is there an issue you think people in the D.C. area spend too much time talking about? Is there one that people don't spend enough time talking about?
Jeff: I am writing this in the wake of the Newtown, Connecticut shooting and certainly a few topics spring to mind that we could be talking more about. But in truth, D.C. is a city that loves to talk about every little thing in excruciating minutiae. If D.C. has one real drawback, it is that the toxicity of the political climate has bled into the general climate. It often seems that in D.C. we have stopped talking to each other and begun talking at each other.
This has become a problem even in the geek community. It is our way or the highway. For every measurable good that nerd-rage has achieved (averting the Nicolas Cage as Superman disaster), our unwillingness to bend or yield in any way when it comes to something we are passionate about has ruined something great. George Lucas seems to have an openly hostile relationship with his fans. I have to imagine that has something to do with two million nerds telling him he ruined their childhoods. If geeks could dump the toxicity and get back to "you like this? I like this too! Let's like it together!" the geek community would be a much more pleasant place.
Scooter: I hear about how awesome it is to be a government contractor... way way too often. So often that #WHENINDC covered it.
HuffPost: Should D.C.'s building height restrictions be lifted?
Brannen: I wouldn't mind seeing height restrictions lifted north of K Street.
Jeff: Absolutely not. You know what really makes D.C. different from New York? I can experience sunshine during the day without having to catch a cab to a park. Also, I enjoy driving downhill and seeing the buildings get taller and taller while topping out at at the same level above sea level. We are one of the only cities in the world where your cache is measured in how many stories you have underground, rather than above.
Scooter: I think it gives our city character. Instead we should pioneer huge cavernous communities underground. Bam, more character.
PHOTO GALLERY
Piratz Tavern
BEFORE YOU GO