Well, readers, it's been quite a year, hasn't it? In case your memory is foggy, we'd like to remind you of what happened in Arts&Culture in 2012. Let us know your favorite moments in the comments below.
In January, we put a spotlight on a popular video-a-day project by Madeline Schichtel that was a hit on Vimeo:
As many of you now know, Thomas Kinkade, the "painter of light," passed away in April. Our favorite reader reactions about the artist are here. In this Sept. 15, 2006 file photo, artist Thomas Kinkade unveils his painting, "Prayer For Peace," at the opening of the exhibit "From Abraham to Jesus," in Atlanta.
That same month, we witnessed the incredible photorealistic drawings of Paul Cadden.
We understand if you don't believe us, since we can hardly believe it ourselves. But the hyperrealistic images below are in fact drawings made by a Scotland-based artist. Cadden's incredible skill arguably captures an intense vision even beyond the capabilities of photography. Whether drawing water droplets, billowing cigarette smoke or creating dusty forehead wrinkles, the artist carefully lingers over every detail.
See a slideshow of his photorealistic drawings below:
PHOTO GALLERY
Paul Cadden
In May, we found some incredible photos of skywalking Russians that made our jaws drop:
PHOTO GALLERY
Skywalking Russians Take Amazing Photos
We also saw Edvard Munch's iconic work, "The Scream," break a world record in May, becoming the most expensive artwork sold in an auction. Edvard Munch. The Scream. Pastel on board. 1895.
The artwork -- which is not a painting but is pastel on board -- ended up selling for $119,922,500, surpassing the previous record-holder, Picasso's "Nude, Green Leaves, and Bust," which sold for $106.5 million in 2010. Cezanne's "The Card Players" has the honor of going for the highest price, period (meaning not at auction) -- it was sold in a private sale to Qatar (yes, the country) for $250 million last year.
In August, we discovered the online sensation known as Psy. A man with a slight paunch and a trademark gallop sparked not one, not two, not three, but too many exhaustive analyses on reputable web sites the world over to count.
WATCH:
And then we saw his past catch up with him in December.
August also brought us BEAST JESUS :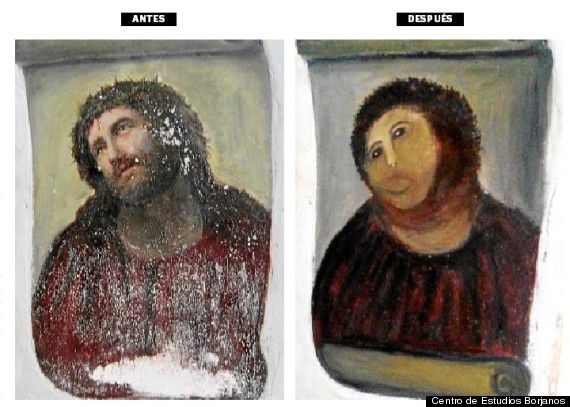 Image on the left shows the painting as it appeared in July of this year, while the image on the right shows Cecilia Giménez's amateur restoration job.
We've always imagined the work of an art restoration to be a painstaking process involving highly-trained individuals crammed in the basement of a museum, slaving over old texts and using many, many tiny paint brushes. We certainly did not picture an elderly volunteer sneaking around in a church, haphazardly painting over a classical image of Jesus until he resembled a furry, sci-fi creature. This was the gift that kept on giving.
In September, an early version of the Mona Lisa was revealed: The work, dubbed the Isleworth Mona Lisa, was reportedly discovered by English art collector Hugh Blaker in Isleworth, London shortly before World War I. Though slightly larger than Leonardo's famous portrait, the subject in the Iselworth became famous for its striking resemblance to Lisa del Giocondo, sparking years of debate as to whether Blaker had discovered Mona Lisa's prequel, ABC News reports.
In November, we celebrated what would have been the 90th birthday of illustrator Charles Schulz. The "Peanuts" creator passed away in 2000, but his work lives on:
PHOTO GALLERY
Charles Schulz Trivia
In December, we went to Art Basel Miami Beach.
Here's what you missed:
PHOTO GALLERY
Art Basel Miami Beach 2012
Finally, we compiled the best photos of 2012 for you: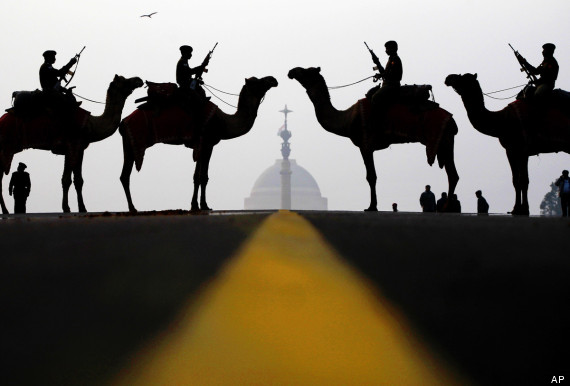 Indian soldiers from the Border Security Forces atop camels stand at attention in front of the Presidential Palace during a ceremony in preparation for the annual Beating Retreat in New Delhi, India, Tuesday, Jan. 17, 2012. India marks Republic Day on Jan. 26. (Kevin Frayer, AP)
What was your 2012 like? Let us know in the comments section below.