Jennifer Lawrence might be the "most desirable woman" in Hollywood, but the actress credits junk food and "Keeping Up With the Kardashians" for her incredible physique.
That's right.
The "Silver Linings Playbook" star admits she's a couch potato, saying she'd much rather lounge all day than head to the gym or go out partying with friends.
"I don't like going out that much. I'm kind of an old lady," Lawrence, 22, tells the January issue of Marie Claire South Africa of her social life. "After it's 11, I'm like, 'Don't these kids ever get tired?' When I'm out, I think about my couch. Like, 'It would be awesome to be on it right now. I bet there's an episode of 'Dance Moms' on. Am I missing a new episode of 'Keeping Up with the Kardashians?' "I'm just stressed by the idea of missing them."
Not only that, Lawrence admits she loves to have gatherings in her two-bedroom apartment in Los Angeles, Calif., where she serves up bowls of junk food.
"I like people to come over to my place," the Golden Globe-nominated actress confesses. "It's like a reality TV show cave. I just learned how to work TiVO. That changed my life."
"Reality TV is my silver lining," Lawrence jokes. "At the end of the day there's probably nothing that makes me feel better than junk food and reality TV."
We hear you, girl!
Check out Jennifer's Marie Claire South Africa cover below: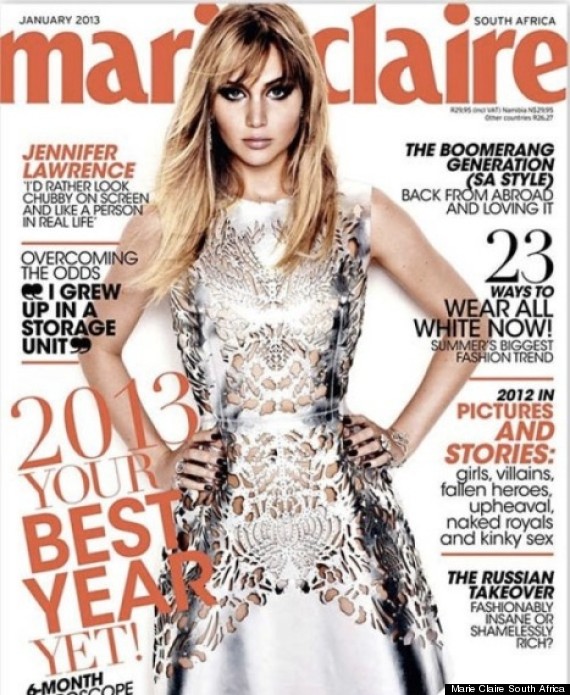 BEFORE YOU GO
PHOTO GALLERY
Jennifer Lawrence