PASADENA, Calif. -- The best moment of the 2013 Rose Parade? An army sergeant who was deployed to Afghanistan stepped off a parade float to surprise his wife and young son, three months before his redeployment date.
The surprise reunion, coordinated by the military and pet food company Natural Balance, was seven months in the making. The family was kept on a need-to-know basis, which means Army Sgt. First Class Eric Pazz, 32, wasn't informed of the surprise until five weeks ago, when he was tasked with telling wife Miriam Pazz, 29, that she won an an all expenses-paid trip to the Rose Parade through a military-only contest.
Miriam Pazz and her 4-year-old son Eric Pazz II made the trip from their home at a U.S. military base in Germany to Pasadena, Calif. As they stood on Colorado Boulevard watching the Rose Parade, they were stunned to see Sgt. Pazz atop the "Canines with Courage" parade float.
The crowd stood up to watch Pazz run and hug his family. He swept his son up in his arms and handed his wife a red rose. After the tearful reunion, Pazz returned to the float to finish the parade with his family by his side.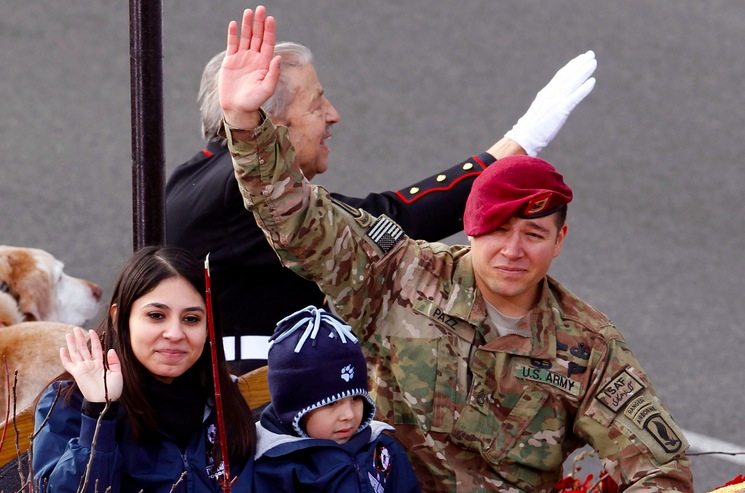 Photo by Associated Press. Story continues below.
"It was an extremely emotional experience," he told The Huffington Post. "It was a very vulnerable, very emotional moment."
Before New Year's Day, Pazz had been separated from his family for seven months.
Miriam Pazz, who avoids watching surprise military reunions when her husband is deployed, was stunned that she was now the subject of such a video -- and a nationally televised one at that.
"It was overwhelming. It's too hard to describe," she told HuffPost.
The couple have been married for eight years, and Pazz said it was difficult to keep such a huge secret from his wife. "She knows me inside and out," he said to HuffPost. "She knows when I'm not being completely honest."
"It was pretty interesting," said Miriam Pazz, smiling. "He's usually not very good with secrets."
For the rest of the week, the family is going to spend time around Southern California visiting Hollywood and Disneyland. But Pazz already knows that the hardest thing about his amazing surprise is right around the corner.
"When we got up on the float, the first thing my son said to me was, 'is it March already? Is that why you're here?'" he said.
"Now I gotta explain to him, when I go back, that I have to go away again for a while -- that I'm not going to see him again for a couple of months," he continued. "So in that aspect, it's even more difficult. You're forced to go through that moment of separation again."
Pazz served in Iraq and Afghanistan, and has received the Purple Heart and Bronze Star. At the end of this week, he will return to Afghanistan until his discharge date in March.
The "Canines with Courage" display, which raises awareness about the effort to erect the first-ever memorial for military working dogs, was sponsored by pet food company Natural Balance.
The Pentagon sponsored another military-themed float, which replicated the Korean War Veterans memorial in Washington. The Pentagon's Rose Parade debut comes a few months before the 60th anniversary of the armistice that ended the fighting in Korea.
To see more heartwarming military reunions, check out the slideshow below.
PHOTO GALLERY
Our Favorite Military Reunions
BEFORE YOU GO
Check out photos below from the Rose Parade 2013:
PHOTO GALLERY
Rose Parade 2013