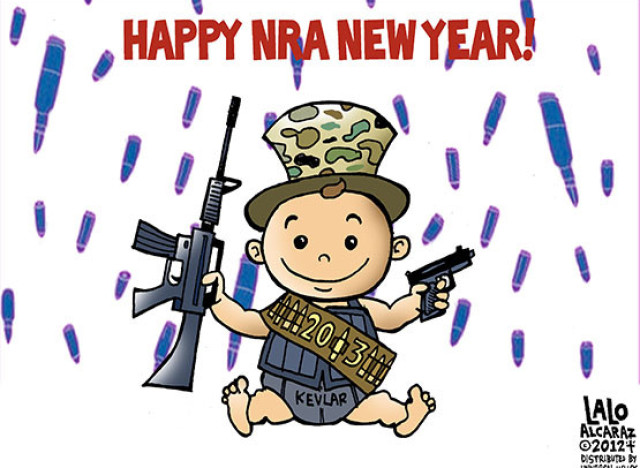 A new year is upon us.
And though the nation bid farewell to 2012, the images of the mass shootings in Aurora, Colo. and Newtown, Conn. will forever remain in the country's collective memory. Debates over the Second Amendment and gun control continue into 2013 and the hot button issue grows in fervor as the National Rifle Association (NRA) continues to advise arming teachers and guards to prevent these types of massacres. So what would an NRA New Year look like? Lalo Alcaraz gives his own perspective above.
Scroll down to see more examples of Lalo Alcaraz's work.
About the artist:

Lalo Alcaraz is perhaps the most prolific Chicano artist in the nation, according to his own bio. Lalo has been busy for over two decades chronicling the political ascendancy of Latinos in America and vigorously pushing the boundaries of Chicano art in the Post Chicano Art Era.

An award-winning journalist and illustrator, Lalo is also an author, faculty member at Otis College of Art & Design in Los Angeles, and radio host. He is also the creator of the first nationally-syndicated, politically-themed Latino daily comic strip, "La Cucaracha."

Lalo's most recent project is a re-boot of the famed Pocho.com, his pioneering humor, satire and cerveza webzine/blog/news site.
PHOTO GALLERY
The Political Satire Comedy Of Lalo Alcaraz