No matter where Rex Ryan goes, he just can't stay out of the headlines.
A day after Ryan's vacation to the Bahamas turned into its own story, a photographer for the New York Daily News snapped the Jets' beleaguered coach lounging on the beach sporting a pair of tattoos on his right arm. One of the inked image depicts a woman who the News describes as "bearing a striking resemblance to Michelle," his wife. The female figure is sporting nothing more than a green Jets jersey with the No. 6 on it. For those who haven't been tracking the travails of Ryan's team, that is the same number that belongs to Mark Sanchez.
Take a look at the Daily News cover and click here to see the photo.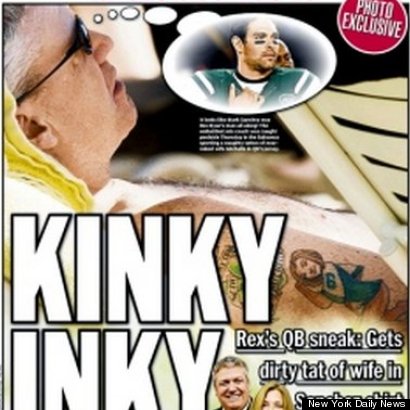 Perhaps Ryan's loyalty to Sanchez during his woeful season had more to do with the cost of tattoo removal than the cost of all of those turnovers. In either case, these were not Ryan's first tattoos.
Back in August 2011, Ryan showed off a tattoo on his right leg during a practice, which he said he got while on vacation in Hawaii. In a video posted on Facebook, Ryan revealed the meaning of the tattoo: "Believe in yourself, which I've got no problem doing."
We can't wait to hear the rationale -- and the timing -- of this one.
Ryan stuck with Sanchez throughout most of the season, through several interceptions and embarrassing butt fumbles, until finally benching him in Week 16. But he went back to Sanchez in the season finale after Greg McElroy suffered a concussion.
As the images obtained by the Daily News vent viral, Stephen A. Smith and Skip Bayless of ESPN debated the existence of the tattoo.
"I pray that it is fake," Smith said on First Take on Friday morning. "I pray that there is no other.. that there is not a shred of validity. I think that something was airbrushed and put in there or something. I hope so."
BEFORE YOU GO
PHOTO GALLERY
2012 NFL Season Highlights