What if the garden of Eden had operated a little bit differently? In his new exhibition "In The Garden," Dutes Miller creates a mythological place where homosexuality is not only accepted, it's the norm. Phallic flora dangle from the ceilings while gay desires grow as organically as any plant life.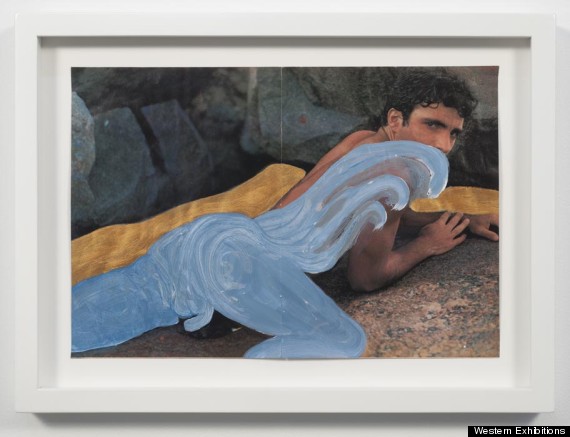 Miller's paper works manipulate gay porn clippings, obscuring their explicit depictions with swaths of color and organic forms. The muscular bodies merge into the surrounding shapes, blurring the boundary between nature and culture. The relationship between the two vibrates throughout the work, which according to the gallery suggests a "zoology of queer desire." The simplified shapes can also be read as an allusion to gay culture's tendency to adhere to strict typologies. Blue, green and grey replace other gay types like twink, bear and queen. Miller, a bearded man whose appearance strays from easy stereotypes, has often expressed discomfort with the roles many feel compelled to play.
We're partial to Miller's low hanging fruits, sculptures made of condoms that combine a tropical exoticism with a looming bodily presence. The fleshly fruits take ownership of notions of fertility and abundance often allocated to feminity. Hunger, appetite and survival entangle sex and food almost beyond recognition.
This marks Miller's second solo show at Western Exhibitions. The artist frequently collaborates with his husband, performance artist Stan Shellabarger, though their collaborative efforts are far more understated and suggestive than the deliberate obscenity of Miller's solo works. "Sex is messy," he once told New City Art.
For one of their best known pieces, 2010's "Graves," Miller and Shellabarger dug their own graves, as well as a small tunnel bridging the two. They laid in the graves while holding hands, a move Miller called "a very sweet idea... of course it's an impossibility."
"In the Garden" runs until January 23, 2013 at Western Exhibitions in Chicago.
Check out a preview of Miller's erotic eden and let us know what you think in the comments.
PHOTO GALLERY
In The Garden
BEFORE YOU GO