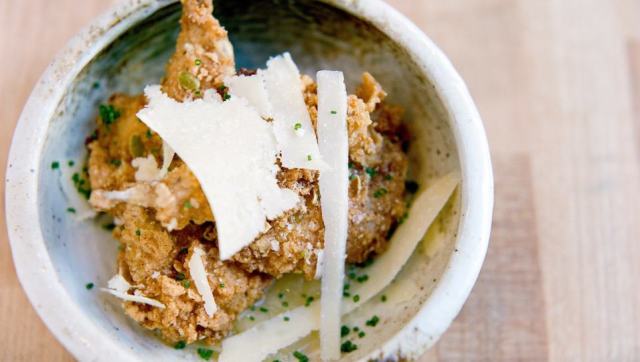 State Bird Provisions: so hot right now.
And though here in San Francisco we live and die by the restaurant's namesake fried quail, we're not the ones making the claim. State Bird Provisions was included in Zagat's Ten Hottest Restaurants in the World: Where to Eat Right Now.
Zagat outlined the world's top ten "uber-buzzy destination eateries that you must visit right this second" in its annual list last week. And State Bird made the cut.
"The snug, narrow dining room, which channels a 'modern workshop' vibe replete with unfinished cement walls, 1970s-era peg boards and school auditorium chairs, isn't much to look at," wrote Zagat. "But that doesn't stop the throngs of hopeful foodies who line up nightly with the hopes of snagging a walk-in spot, or even a chance to dine standing up at the front counter."
Also included in the list was Mission Chinese Food NYC, opened by San Francisco expats. Not only were State Bird and Mission Chinese included in the list, they were two of only four North American restaurants listed.
State Bird Provisions was also named best new restaurant in the country by Bon Appetit earlier this year, so the honor really comes as no surprise. Nevertheless, the owners expressed shock and gratitude via social media.
"Speechless," wrote State Bird Provisions of the restaurant's Facebook page. "Congratulations to our friends at Mission Chinese Food!"
Mission Chinese Food sent a nod back on Twitter.
"Congratulations @statebirdsf!!! Thrilled to share this honor with you guys."
Check out all ten of Zagat's Hottest Restaurants in the World in our slideshow below:
PHOTO GALLERY
Zagat's Ten Hottest Restaurants in the World
BEFORE YOU GO