How does Justin Bieber respond to allegations he was photographed smoking weed?
He doesn't; he just posts photos of his new tattoo.
On Sunday, the 18-year-old pop star unveiled his new body ink: the logo for his hometown's junior league hockey team, the Stratford Cullitons.
"My grandfather always took me to the stratford culliton every friday night this is for u Grampa ... My man @chenterios hooked it up," Bieber wrote on his Instagram account.
The new ink follows the rose tattoo he added to his left calf last week.
The "Boyfriend" singer seems to have developed a bit of an addiction for both body art and posting shirtless photos online.
In addition to his two most recent tattoos, Bieber also has a large visage of Jesus that sits above the roses on his calf, an owl tattooed on his left arm, right next to his "Believe" ink. Biebs' body is quickly becoming a living canvas, as he also has the Japanese Kanji symbol for music on his right arm, a bird on his hip, a crown on his chest and the Hebrew word for Jesus on his ribcage.
Bieber doesn't seem to worried about his drug "scandal," and there's even buzz that it could be good for his career. The New York Daily News reports that it's Bieber's friend, rapper Lil Twist, who has been allegedly smoking pot and downing Champagne with the singer, but his "bad influence" could be giving Biebs the "street cred" that he needs.
"This may even help him by giving him a bit of an edge that might appeal to girls," said Dorothy Cascerceri, a celebrity trend expert for In Touch. "A little bit of a bad boy side might even up his sex appeal."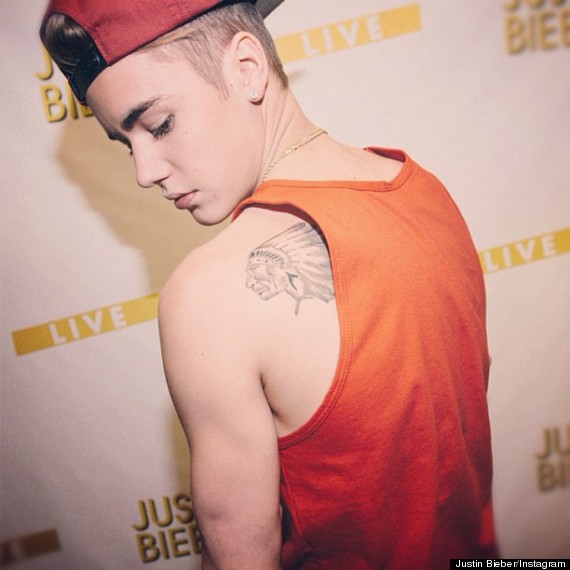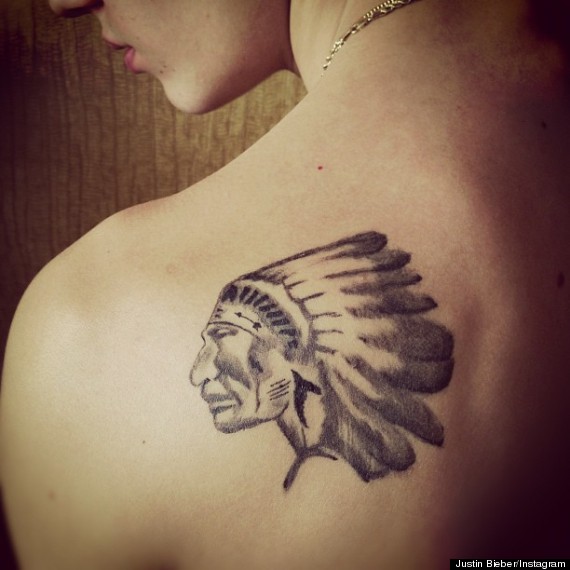 PHOTO GALLERY
The 20 Worst Celebrity Tattoos
BEFORE YOU GO