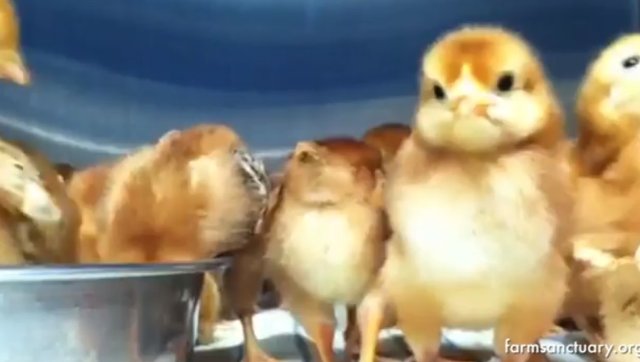 WASHINGTON -- 106 misdirected baby chickens were recently waylaid at a post office in the nation's capital.
The Rhode Island Reds were intended for Blountsville, Alabama, according to the Washington Humane Society's blog post on the matter, but, on Jan. 4, ended up at a mail distribution center in Northeast D.C. instead.
Someone really "fowled that shipment up," as someone on WHS's facebook page noted. That someone appears to be the sender, according to ChristieLyn Diller, WHS's Director of Marketing and Communications, who told The Huffington Post that it "looks like the error was on the shipper's end, not the post office."
The chicks' shipper, concerned about their survival, transferred ownership to the post office, which called WHS:
It was all hands on deck when the box of chicks arrived at our New York Avenue Adoption Center. Staff sprang into action, crafting a make shift home for the days-old babies equipped with heating blankets and lamps. A special meal was swiftly mixed up and served with fresh water, satisfying their inevitable hunger and thirst after days without nourishment in a shipping crate. Our next step was integral for the chicks survival - finding them an appropriate and loving home.
Story continues below:
PHOTO GALLERY
106 Rhode Island Red Chicks
For legal reasons, WHS looked outside the District for the chicks' next home. On Jan. 8, they were picked up by staff from from upstate New York's Farm Sanctuary -- the animal rescue group that asked President Obama for possession of this Thanksgiving's pardoned turkeys, promising lives by the Finger Lakes would be longer and happier than at another facility. (The request was denied. The turkeys went to live at Mount Vernon, George Washington's Alexandria, Va. home.)
On Wed., Farm Sanctuary posted a video of the long-haul baby chickens looking very chipper indeed:
BEFORE YOU GO