If you live on the East Coast or most places in the middle of the country, you're probably already facing "intense" flu activity. For people in the 13 states shown below, the threat is a less-than-comforting "high." Google Flu Trends has collected data on flu-related searches to create an algorithm that estimates real-life flu cases in real time — with surprising accuracy. The result is a map that paints an alarming picture of what experts are calling the worst, earliest flu season in ten years.

Red corresponds to intense risk and orange is high — though some states still considered high are nearly red.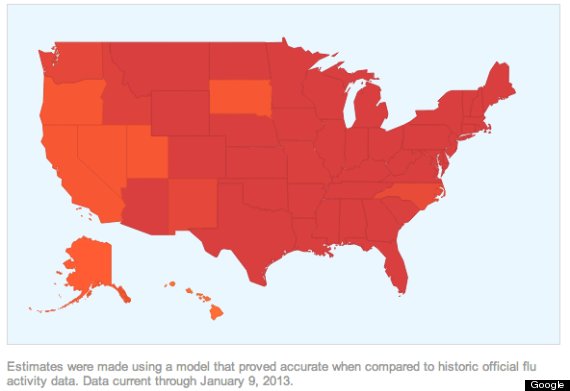 It will get worse. The national trend line for flu-related searches points steeply up, dwarfing the volume of searches in years past.
It may be just a matter of time until Google's map is all red with "intense" activity, but as of Thursday afternoon, these 13 states are still "high":
PHOTO GALLERY
States Where Flu Is Still Just "High"
BEFORE YOU GO