Justin Bieber has a look-alike, who looks so much like the pop star it's almost scary.
Robin Verrecas, 18, lives in Belgium and looks so much like the Canadian singer that Bieber's fans are wondering if some people can't tell the difference between the two.
Some Beliebers seem to be having a hard time dealing with Bieber's current alleged weed scandal, which emerged after photos of the singer holding what appears to be a blunt were published by TMZ. Verrecas has been dragged into this mess by Justin's fans, who believe the weed scandal is really a conspiracy.
Some fans have alleged that it's actually Verrecas in the damning photos, because you can't see Bieber's tattoos in TMZ's photos and a blond girl who looks similar to Verrecas' girlfriend also appears in the photos:
this is not Justin. it's robin verrecas. it has that same blond girl in every picture. #proof twitter.com/keepOnBeliebin…

— kentuckys finest∞ (@keepOnBeliebinn) January 5, 2013
Verrecas hasn't taken kindly to the accusations, and he took to Twitter to clear his name:
"the guy on that weed picture ISN'T me!! I SWEAR! @justinbieber please tell them the truth," he wrote on Jan. 5. "i'm a belieber! so if it was me...why would i do this to justin? THINK!!?? i don't smoke."
For his part, Bieber hasn't addressed the weed allegations at all, but sources say that he gave "SNL" writers the OK to make jokes about the scandal as nothing will be off the table when he hosts the show.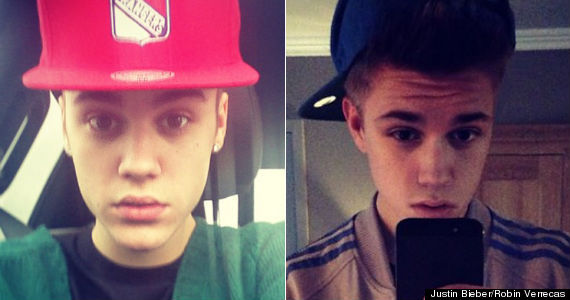 (Left to right:: Justin Bieber and Robin Verrecas)
These celebrities have found doppelgangers in other celebrities:
PHOTO GALLERY
Celebrity Dopplegangers
BEFORE YOU GO