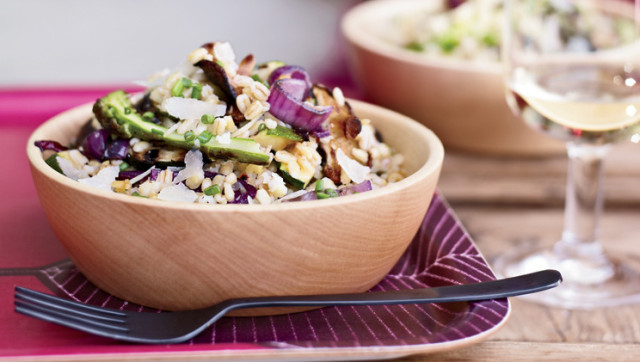 By now, we're pretty sure nearly everyone has heard of superfoods. But just in case you haven't, the term describes foods that are high in phytonutrient content and just generally good for us.
If you're anything like us, getting yourself to consciously eat superfoods on a daily basis can be a bit of a chore -- we have enough to worry about. That's why we put together a collection 30 superfood-loaded recipes that we can't wait to cook up. We based our recipes off of Oprah's Dr. Perricone's top 10 superfoods list -- because we believe Oprah is looking out for us, don't you?
We made one slight adjustment to Dr. Perricone's list when it came to green foods. He suggests getting your fill of emerald-green grasses like wheatgrass and barley grass. While we know that these are good for us, we couldn't find any delicious-sounding recipes that used them. Instead we subbed in their dark, leafy-green cousins, like kale and chard, which are also full of good-for-you nutrition.
Want to read more from HuffPost Taste? Follow us on Twitter, Facebook, Pinterest and Tumblr.
PHOTO GALLERY
Super Foods Recipes
BEFORE YOU GO