Alice Pyne, the British teenager who captured the world's heart with her bravery and inspiring "bucket list," lost her battle with terminal cancer over the weekend.
As the Daily Mail notes, the 17-year-old died on Saturday. Her mother, Vicky, made the announcement on Pyne's blog:
Our darling girl, Alice, gained her angel wings today. She passed away peacefully with [dad] Simon, [sister] Milly and myself by her side. We are devastated and know that our lives will never again be the same.
Pyne, who had been fighting Hodgkin's lymphoma for many years, became something of a viral sensation a few years ago after she published a bucket list of things she wanted to achieve before she died.
In August, thanks to the help of supporters around the world, she completed her list after going on a whale watching trip in Canada.
"It was really amazing because in the beginning I didn't even know it was going to get published, and so I didn't expect half the things to get done, never mind finishing it," Pyne told ITV News at the time.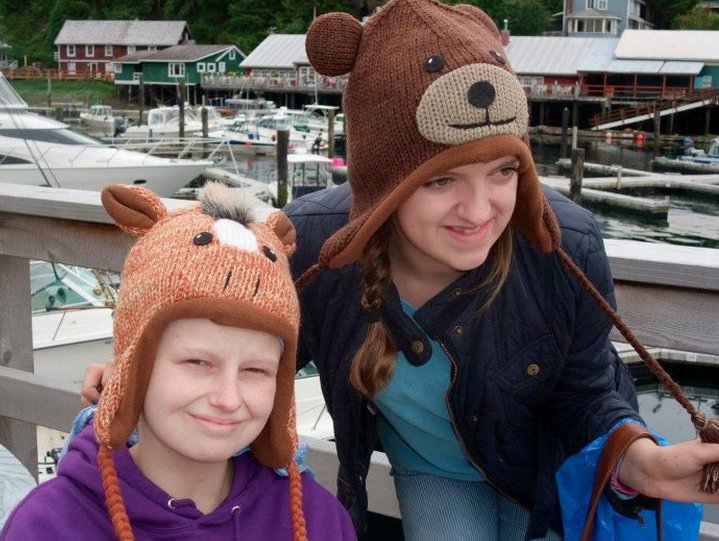 Alice Pyne and her sister, Milly, on Vancouver Island during their whale-watching trip (Facebook/Alice Pyne)
Before accomplishing her final wish, the teen had also swum with sharks, attended her prom and met the members of Take That, a British pop group.
On her bucket list, Pyne had also said that she wanted to "get everyone eligible to join a bone marrow register." It is believed that the teen inspired more than 40,000 people to register as donors, the New York Daily News writes.
According to the Independent, Pyne's bucket list gained renown around the world, attracting the attention of celebrities such as actor Channing Tatum and English soccer player Rio Ferdinand.
In her very last blog post on Jan. 1, Pyne marveled at the fact that she was still alive despite having battled cancer for so long.
"Can't believe that I'm really saying 'Happy New Year' to you all.  I don't think that there is a single doctor that would have expected me to be here when they sent me home over two years ago," the teen wrote.
Though Pyne's life was tragically cut so short, the teen accomplished a great deal in her lifetime. Together with her family, Pyne established a charity called Alice's Escapes, which sponsors vacations for children who are seriously ill.
Last year, Pyne and her 14-year-old sister, Milly, were awarded British Empire Medals for their tireless charitable work.
This October, Milly is reportedly planning on climbing Mount Kilimanjaro for charity in memory of her sister.
As the Daily News notes, Pyne's death has sparked "hundreds of heartfelt tributes from around the world," as many mourn the passing of the inspiring teen:
RIP @alice_pyne a truly inspirational young lady who lit up many lives and left a legacy that should make her family proud. #RIPAlice

— Tim Mullen (@Tim_Mullen) January 13, 2013
Alice Pyne...an inspiration to all the youth in this country and worldwideYou were a star kid...RIP TRAVEL WELL ALICE NEVER FORGOTTEN.

— Tony Cain (@kopitekidda) January 14, 2013
Rip beautiful @alice_pyne . Thank you for making the world a better place. Look for @madfroggy. She'll look after you.

— Davina McCall (@ThisisDavina) January 13, 2013
To learn more about her bucket list, go to Alice Pyne's blog here.
BEFORE YOU GO