An airbrushed shirt featuring a graphic of President Obama as a witch doctor made a splash at a Tea Party convention last weekend in Myrtle Beach, South Carolina. The t-shirt text read: "Your New Doctor: Obamacare Coming Soon To A Clinic Near You!"
The t-shirt intended to make a statement regarding the quality of health care Americans will receive under Obama's signature health care law, which was upheld by the Supreme Court last June.
According to one Myrtle Beach local, Bob Cramer, graphics of President Obama dressed as a witch doctor complete with a bone pierced through his nose are "not racist".
"Some people tell me it's racist, but it's not racist — it's political" Cramer told the Palmetto Public Record.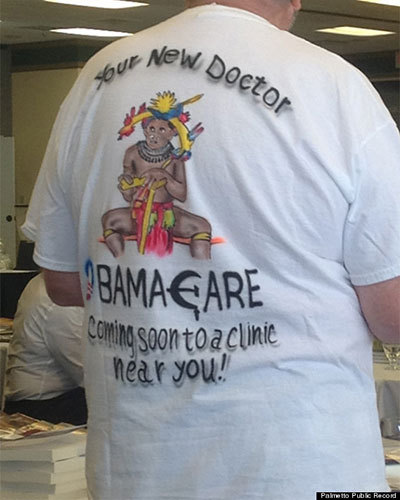 It's not the first time the witch doctor imagery has been used to criticize the president. In October, a New Jersey storefront owner refused to take down anti-Obama images depicting the president as a witch doctor.
"If you want to call me a racist then go ahead, " challenged Bill Skuby, owner of the clothing store. "I can assure you I am not a racist; I just really want to see Obama go."
Click over to the Palmetto Public Record for more on the t-shirt.
BEFORE YOU GO
PHOTO GALLERY
11 Paranoid Obama Conspiracy Theories