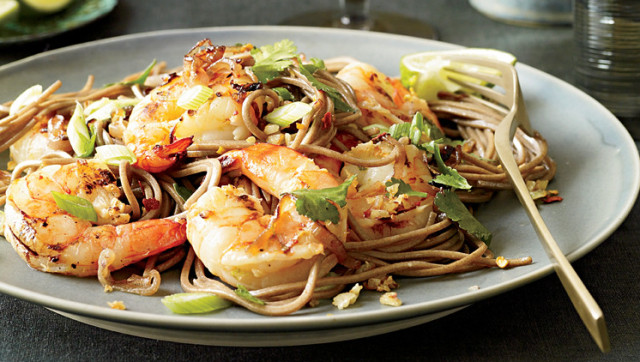 The nice thing about soba noodles is that they hit the spot when you're looking for something hearty like lasagna, but they're nutritionally good for you in so many ways.
Japanese soba noodles are made from buckwheat flour; buckwheat is a great source of nutrients like manganese, lean protein, carbohydrates and thiamine -- which are all things we could use more of. Added bonus: soba noodle recipes are delicious.
This soba noodle recipe is packed with bright flavors from garlic, lime and cilantro and is topped with shrimp for extra protein. It's a great recipe for a healthy and quick weeknight meal.
Get the Soba Noodles with Grilled Shrimp and Cilantro recipe
Want to read more from HuffPost Taste? Follow us on Twitter, Facebook, Pinterest and Tumblr.
In the mood for something sweet? Check out these Japanese dessert recipes.
PHOTO GALLERY
Japanese Desserts
BEFORE YOU GO