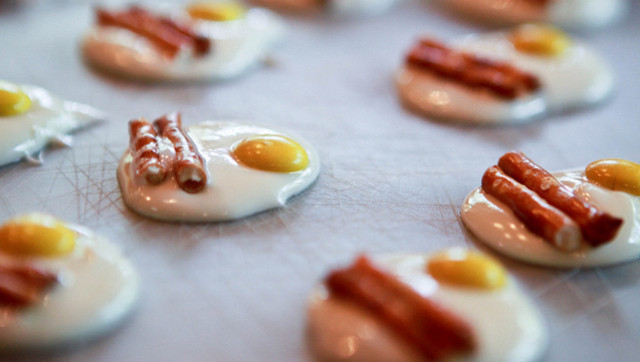 When it comes to the best in food combinations, bacon and eggs are number one. (Yes, they even beat the scientifically perfect combo of parmesan with dark chocolate.) What could be better than bacon and eggs? Not much, which is why this combination even works (and looks adorable) in candy form -- for those times when you want something sweet instead of savory.
With white chocolate chips, yellow M&Ms and pretzel sticks you can make these bacon and egg candies with less effort than it takes to make real bacon and eggs. It's so easy that blogger Ordinary Miracles & The Crazy 9, who is responsible for this amazing recipe, recommends it as a great activity for kids. Extra bonus: you get to eat all the M&Ms that aren't yellow -- it's an actual step in the recipe.
Get the bacon and eggs candy recipe.
Want to read more from HuffPost Taste? Follow us on Twitter, Facebook, Pinterest and Tumblr.
Feel like making candy now? Check out these other recipes!
PHOTO GALLERY
Homemade Candy Bars
BEFORE YOU GO