You know the situation: You go out for the night, to a dinner party or a bar, only to discover that your smartphone is just about dead. You're not going to bring a charging cable and wall unit with you -- who can fit all of that in their pocket? -- so you just dim the screen, turn off email and hope that the slim sliver of red battery bar will last you the rest of your evening, or at least until that special someone gives you a call or a text.
The inventors of a new, cleverly-named device called the Charge Card think they have the anecdote to this all-too-familiar modern quandary: It's a portable iPhone or Android charger shaped like a credit card, designed to be slim enough to fit in your wallet. One edge of the Charge Card plugs into your smartphone -- there are versions of the charger that work with Android and both the old and new iPhone chargers -- and a small rubberized strip pops out from the center of the card and acts as a USB charger.
That means you can charge your phone, so say the entrepreneurs behind the Charge Card, in almost any laptop, computer monitor, USB-equipped car, Xbox, point-of-sale cash register, or, realistically, wherever you can find an open USB port. I charged my own iPhone using the Charge Card in a flat-screen television at the Atlanta airport, using one of the USB slots on the back of the set.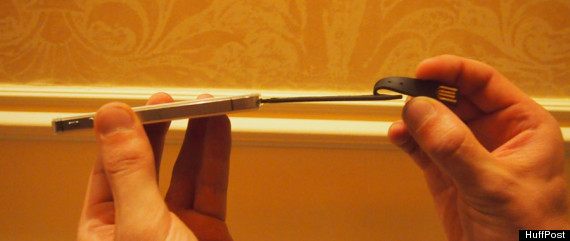 A prototype of the Charge Card, viewed from the side. The rubber strip in the center plugs into any USB port, and snaps back into place when not in use so that the charger stays flat enough to fit in a wallet.
The Charge Card gained notice this past year as part of a super-successful Kickstarter campaign that raised over $160,000 for the project, more than triple the $50,000 goal. Now, the Charge Card team -- three California twentysomethings named Noah Dentzel, Adam Miller and Brian Hahn -- are preparing to send the first units to customers, with the goal of shipping by the end of January.
The fledgling startup has already sold 9,000 Charge Cards, Dentzel told me in an interview at the Consumer Electronics Show in Las Vegas last week, and they have begun to take fresh orders at their website. One Charge Card costs $25 and, for now, it is only available online.
That's a pretty reasonable price to pay for what is essentially a really fashionable USB charging cable-cum-conversation piece that also fits in your wallet, though there are some obvious drawbacks. Though Hahn told me that "you kind of gain a USB radar as you walk around" with a Charge Card, it's still true that there are far more outlets on the walls in public places than there are USB ports. You have to be prepared to get creative and courageous, to ask bartenders and maitre d's if you can use their cash register or televisions to plug in your phone if you really need to.
The exposed USB circuitry also gives me some pause -- will this thing stay safe, functional and attached over time -- though Dentzel assured me in our interview that it would. Besides, as Dentzel sees it, carrying around a Charge Card is better than scrunching up a charging cord into your pocket
"At the end of the day," he told me, "cables are just a pain in the ass."
Ready to kick out some of those old loyalty cards and stick something that's actually useful in there? You can preorder your own Charge Card for $25 at the official website.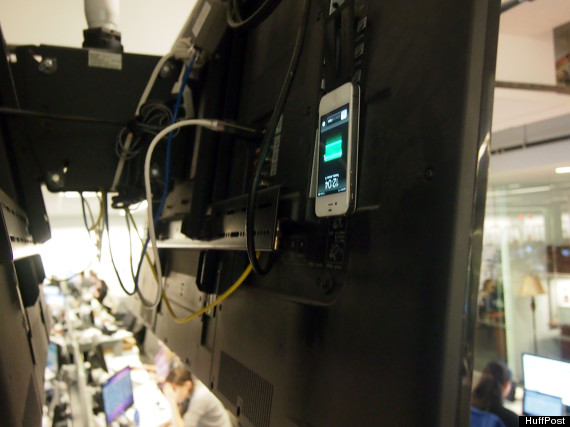 Charging my iPhone from the back of a hanging television in the HuffPost newsroom. The Charge Card's charger grips the iPhone so that it doesn't fall when suspended from great heights (I hope).
BEFORE YOU GO
PHOTO GALLERY
iPhone 5 Battery Life Tips