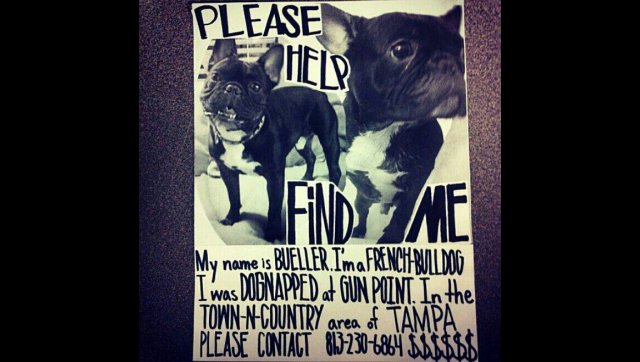 This Bueller wasn't just playing hookey.
Bueller, a French Bulldog allegedly taken at gunpoint in Tampa, Fla., was returned safely to his owner, Derek McComber, on Monday morning.
McComber, 27, had taken Bueller for a walk at approximately 12:19 a.m. on Saturday when a gray Honda Civic pulled up on the side of the road, according to a release from the Hillsborough County Sheriff's Office. A man then got out and asked McComber what kind of dog Bueller was.
After hearing that the dog was a French Bulldog, the suspect stated, "Well, I'm taking it," swooped up Bueller, and began moving toward his car. McComber reported that he noticed the suspect's handgun was pointing at him, so he did not attempt to defend Bueller.
McComber began a social media campaign to find his pawed pal, launching both a Facebook page "Help Find Bueller" and Twitter handle @helpfindbueller.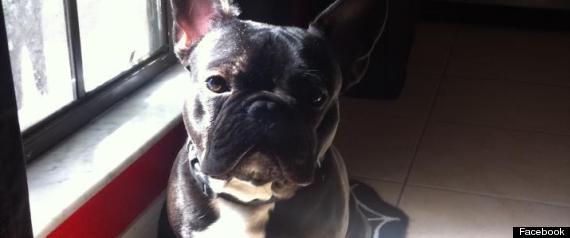 Meanwhile, Gregory Sakas, an unemployed repairman, found the 25-pound dog Saturday morning at approximately 9:30 a.m. in his front yard, less than a mile from McComber's home.
Sakas, who described Bueller as "really polite" kept the dog overnight. He was in the process of posting "found dog" flyers when a contact at Sunshine Animal Hospital told him a man was looking for a dog of that description, the Tampa Bay Times reported.
"I said, 'Man, I'm taking this dog to the police department,' " Sakas told the paper. He called the sheriff's office, where a reunion was set up.
"He was all over him, man," Sakas said of Bueller. "They knew each other for sure." According to the Times, Sakas will hear from Crime Stoppers about a reward soon. But despite his financial situation, Sakas said he didn't do it for the money. He offered a different explanation: "We're dog people."
BEFORE YOU GO
PHOTO GALLERY
Wacky Pet Names