We seem to be stuck in a vacation vortex.
Americans that would love to take trips further afield often end up going back to the same vacation destinations year after year, a new survey from Cheapflights.com reveals.
The results have led the travel site to the inevitable conclusion that we're stuck in a national "vacation rut." Florida is the destination of choice for more than 15 percent of travelers, with both Las Vegas and the Caribbean also top-ranking choices.
While those ever-popular destinations are where many travelers end up, Cheapflights says vacationers would rather be literally flying into the sunset. The website's survey revealed Australia and New Zealand to be the two most-coveted vacation destinations, with Alaska close behind in hypothetic popularity.
That travelers are creatures of habit goes beyond the destination, too. Two in five repeat visitors have dined at a restaurant they chose on a previous trip, Cheapflights says, and one in five have eaten the same meal. About one in 10 have stayed in the exact same hotel room.
Why the disconnect between dream and reality? Survey respondents said affordability, great weather, peace of mind and safety all factored heavily into their destination decisions. For the record, Australia and New Zealand offer plenty of all four.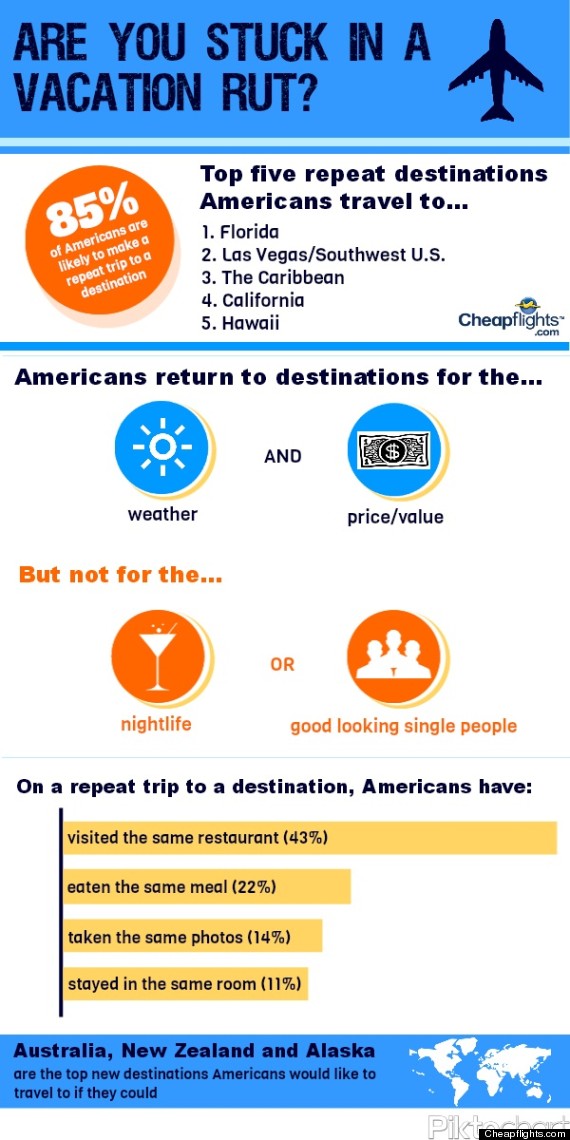 BEFORE YOU GO