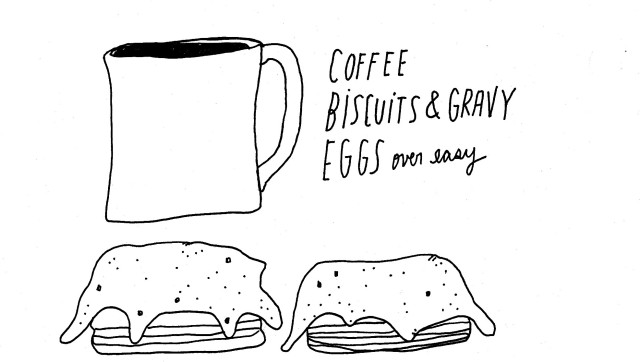 The next time we decide to "take a look at our spending habits," we seriously hope they're this cute.
Kate Bingaman-Burt, Assistant Professor of Graphic Design at Portland State University, has conducted what we think is probably the most interesting experiment on consumerism in history. For the last six years, Kate has illustrated every single purchase she's made -- from grilled cheese to thumbtacks. This collection of illustrations, titled "Obsessive Consumption: What Did You Buy Today?" can also be found on her website, which we couldn't resist scrolling through. As is to be expected, we fixated on the edible purchases.
What did we learn about Kate through her drawings? She loves IKEA meatballs, drinks as much coffee as we do and is the kind of person who distinguishes between "fancy" mac and cheese and "regular" mac and cheese. We like Kate a lot, and we think you will too.
Now, you can even record your own expenses in close proximity to adorable drawings, with the "What Did I Buy Today?" journal -- illustrated by Bingaman-Burt. AND, in case that wasn't enough, she's also designed a series of tea-towels, for the real food-illustration junkies among us, in vegetable, sweets and kitchen utensil motifs. Check out a selection of our favorite of her food-related illustrations below.
Want to read more from HuffPost Taste? Follow us on Twitter, Facebook, Pinterest and Tumblr.
PHOTO GALLERY
"What Food Did You Buy Today?"
[via Oddity Central]
BEFORE YOU GO