Got a success story of your own? Send it to us at success.stories@huffingtonpost.com and you could be featured on the site!
Name: Mindy Witthoft
Age: 31
Height: 5'9"
Before Weight: 300 pounds. It could have been more. I actually didn't own a scale until I decided to make this life change.
How I Gained It: I had always been a chubby kid, which made for a chubbier teenager and finally an overweight adult. I wasn't ever a sports kid. I was blind to the fact that I was the size I was because that was what I was used to being. I honestly never cared about the calories I would consume and wouldn't watch the portion sizes either. I would also eat a lot of fast food.
Breaking Point: In December 2011 I went to a friend's house to have dinner with her, her husband and my cousin. We couldn't make up our minds about what to eat that night, so we went to three different fast food places to get food for all of us. I ordered food from each place and later thought, "What the hell am I doing?" when the acid reflux kicked in and I felt horribly full. I knew at that point I didn't want to do things like that anymore. I decided to start January 1, 2012, as most people do at the beginning of the year, to work on improving my health.
How I Lost It: I knew this would not be an easy change and that no one but me could enforce it. I signed up for MyFitnessPal and decided I would work out. I got up that first morning and did a workout DVD for 20 minutes. I was sore later that day, but got up the next day and did another 20 minutes before work. Then, when I got home from work, I did 20 minutes. This was the cycle that I repeated for months.
Along with this new exercise cycle I decided to cut out the fast food. I vowed that if I ate out at any point it would be at a restaurant where I could make a decision that would be better for me. I started cooking all my meals and went months before even attempting to eat out to avoid any temptation.
Even though I was working out by myself, I had a co-worker in another state that was inspired by me to do the same. To date she's lost about 70 pounds. You could almost say we are long-distance workout buddies!
As the months went by and the pounds melted off, I knew this was something I could do. It really took a while before anyone could notice the changes, but I could see them on the scale, in the way my clothes were starting to fit and the way I felt. During July 2012, a friend suggested that we go for a hike at one of the local mountains. I figured it would be a new exercise option for me. Little did I know how much I would love hiking. Hiking up I was out of breath and had to stop a few times, but I kept thinking the "me" from last year would not have been able to do this. When we made it to the top it was amazing!
Since that first hike, I have gone almost every weekend. I always snap a photo near the top to record my accomplishments. As the year continued, I felt everything about me improving: my athletic abilities, my sleeping, my body and my confidence. Now that I have completed year one of this major life improvement I know I can continue to keep driving this change. I can prove to people that you don't need anything special to accomplish something like this besides patience and a drive to change. I want to keep inspiring those around me to do the same.
After Weight: 176 pounds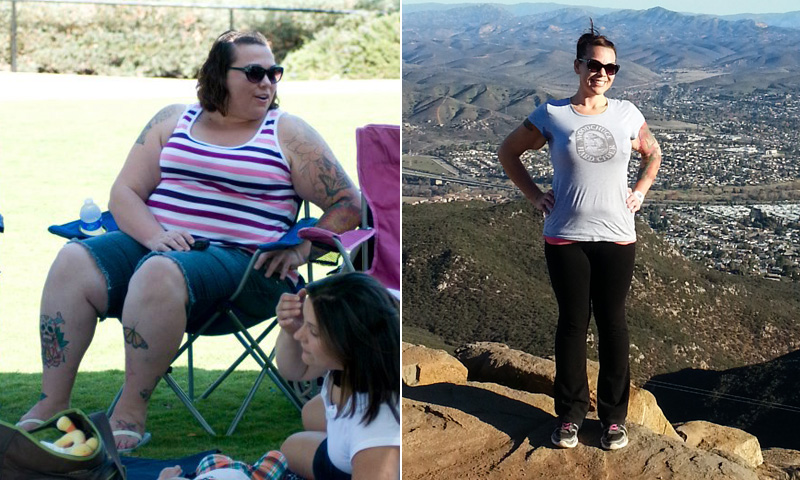 The Huffington Post publishes photographs as they are submitted to us by our readers.
Check out more of our inspiring weight loss stories below:
PHOTO GALLERY
Weight Loss Success Stories
For more on weight loss, click here.